World Cup Wobbles after Covid-19 scare as Aronian and others withdraw; Concerns for Caruana
Round 2 of the World Cup continues, as the first impact of Covid-19 is felt.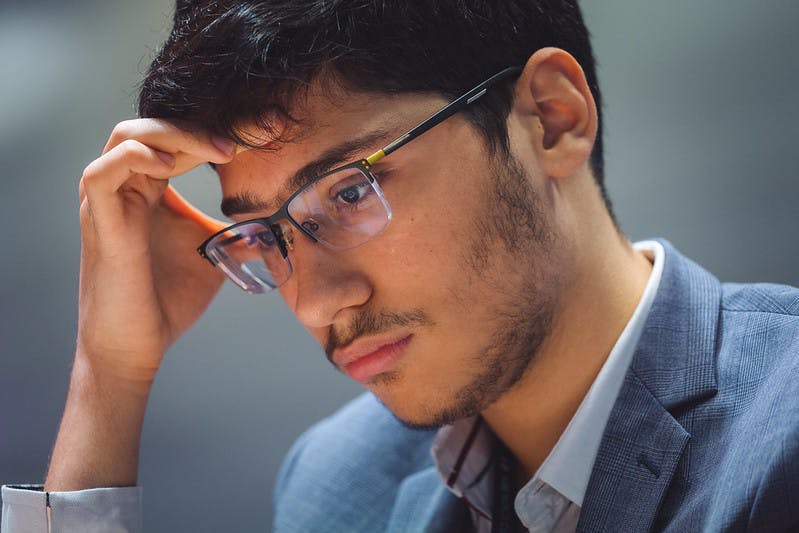 The risk of Covid-19, already looming in the tournament since IM Mohamed Ervan's withdrawal in round 1, took centre stage in round 2. Even before this latest round began, GM Levon Aronian was forfeited in the first game due to potential Covid-19 infection. Continuing to be symptomatic with flu-like symptoms for the second game of the round, Aronian withdrew as his Australian opponent, GM Bobby Cheng qualified through to round 3, where he will face GM Vladislav Kovalev. 

[Title photo credit - Anastasia Korolkova / FIDE]
Aronian has since released a statement on Facebook, clarifying he withdrew due to "having a high fever and tonsillitis". It has been widely reported and documented that Covid-19 commonly manifests with fever and sore throat, although it is unclear if Aronian has Covid-19 or another illness with similar symptoms.

Also in the Open section, GM Fabiano Caruana was speedily escorted from the venue after his opponent, GM Susanto Megaranto received a positive Covid-19 result mid-game. 
UPDATE: just been told by FIDE that Fabi's opponent, GM Megaranto has had a positive covid result. He has been isolated and forfeited. Rules of the event mean Fabi will need another test and will be isolating in the hotel until results known.

— Theo Wait (@cynophi) July 15, 2021
The FIDE World Cup organizers confirm that one of the players has tested positive for Covid-19. The result of this test was known while he was playing his second-round game. (1/3 thread)

— International Chess Federation (@FIDE_chess) July 15, 2021
It was initially unclear why the result was received whilst a game was ongoing. FIDE has since said that their testing partner ordinarily gets results by 1pm local time - two hours before the round starts. FIDE has said they are "investigating" the issue. 
Replying to a request for comment, FIDE has assured Lichess that "FIDE follows Russian health agency laws and our protocol as well". Russian law currently says that individuals who come into contact with someone with Covid-19 are "strongly recommended" to self-isolate for 14 days. 
In the second day of round 2, Covid-19 concerns spilled over into the Women's section, as the last remaining Indonesian players - IM Irene Sukander and IM Aulia Medina Warda - voluntarily decided to withdraw from the tournament. Both players have publicly clarified they have tested negative for Covid-19, but are reacting prophylactically. With the possible exception of Aronian, all the players so far confirmed to have had the virus were Indonesian. Their opponents - GM Valentina Gunina and GM Harika Dronavalli consequently will go through to round 3, where they will be playing against each-other. 

As to the chess itself, round 2 provided many exciting and dynamic games - we've collected our favourite highlights of this round below. Meanwhile, the reddit user dethwing_ provided some statistics on the games played so far which many may find interesting.
Round 2 Game 1 - Open

The US player, GM Elshan Moradiabadi (2553) provided an entertaining and dynamic game, which was a hair away from becoming the round's biggest upset. After a lengthy middlegame against GM Maxime Vachier-Lagrave (2749), where the Frenchman built up an imposing position, Moradiabadi was able to take advantage of errors in Vachier-Lagrave's position - and start tightening the vice. Unfortunately, under considerable time pressure Moradiabadi was unable to convert and agreed a draw. Moradiabadi was coughing frequently during the game, but has clarified he has a recurring throat infection.
https://lichess.org/study/embed/1JRoUQgg/jcul7KkS#0
Meanwhile, GM Adhiban Baskaran (2660) romped to victory in just 22 moves against Paraguayan GM Neuris Delgado Ramirez (2622). With a beautiful tactic, Adhiban secured the win in a game where he hardly seemed to break a sweat.
Can you find the mate in 4?
https://lichess.org/study/embed/1JRoUQgg/uFKvx2Ll#42
Reset the counter!
GM Boris Gelfand (2675) - a veteran of Chess World Cups, having won the 2009 edition - got an advantage straight out of the opening  over his opponent, GM Arik Braun (2609),. Having got the upper hand, Gelfand - who has never been out of the top 60 world players for 30 years - kept the lead and easily converted despite having unbalanced material.
Round 2 Game 1 - Women

GM Anna Muzychuk (2527) faced WGM Tatev Abrahamyan (2352) in a game filled with threats and fireworks, as both players under time pressure had a turbulent middlegame in the race to additional time on move 40. 
https://lichess.org/study/embed/l5vL70zh/qLZKV1SA#63
In a seemingly equal yet complicated position, Abrahamyan played 32… Bxg4, offering the opportunity for white to play 33. Rxh6+ gxh6 34. Qxc7+ leading to a forced mate (33… Kg8 is also forced mate). However Muzychuk, with less than a minute left on the clock missed it, and instead took the rook immediately with 33. Qxc7. While this looks like a natural move to make, after 33...Bxf3 34. Nxf3, black has a very strong attack and mate threat with 34...Qf5. Abrahamyan, possibly having the winning idea but wrong move order in mind, played 34… Rg4+ which unfortunately didn't work because of Kh6, and Muzychuk later went on to an advantageous endgame which if misplayed could have led to a draw. Muzychuk navigated the potentially treacherous waters, and once it was clear the possibilities of a draw were over, Abrahamyan resigned. 
Meanwhile, on board 10 an early draw was agreed after just 15 moves where Iran's top woman player, IM Khademalsharieh Sarasadat (2494) accepted a threefold repetition offered by IM Padmini Rout (2370). Opinions vary as to whether the line is a theoretical draw, or if a player forgot their prep - but if you have an idea of what the reason might be, leave a comment. 
Round 2 Game 2 - Open

The English IM Ravi Haria (2440) - who in an interview with Lichess shared that the Chess World Cup is his interesting summer job - stayed true to form and provided another upset! Being in a must win situation against GM Etienne Bacrot (2678), and in an endgame where both sides appeared struggling to make any progress, Haria pulled out a win on demand with black to stay in the tournament. Haria had earlier shared that for 4 - 5 years he had studied endgames intensively - and those years of drills truly paid off for him once again. 
Meanwhile, the young Russian player IM Volodar Murzin (2502) - only 14 years of age, and with his birthday today - continued to impress the chess world. In just 30 moves, he managed to find a pleasant position against his compatriot, GM Vladislav Artemiev (2704).
https://lichess.org/study/embed/EQlK9jgP/5Oxuv3v9
With both players under time pressure, the Russian junior failed to convert his advantage and Artemiev forced a draw sending the game to tiebreaks. Regardless of the outcome, it's safe to say that Murzin will have a lot to show in the upcoming years.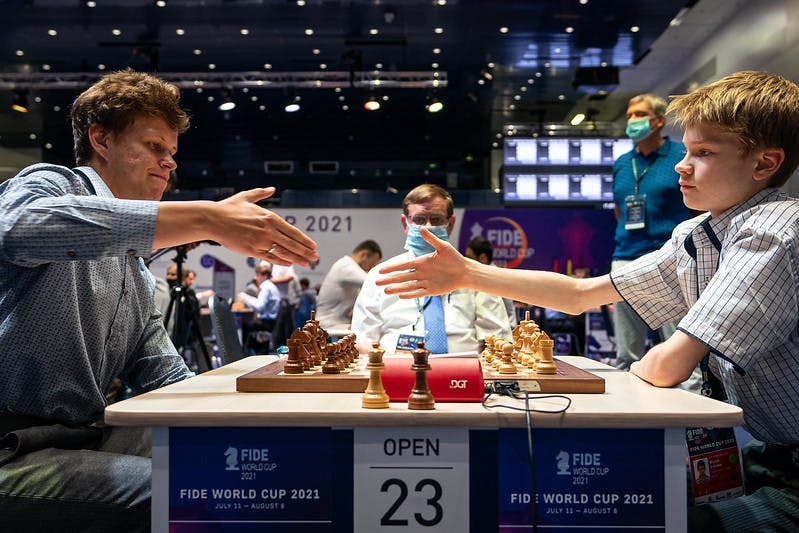 Artemiev and Murzin shake hands before playing in round 2 (Anastasia Korolkova / FIDE)
Undoubtedly the biggest upset of game 2, however, was GM Michal Krasenkow (2591) versus GM Kirill Alekseenko (2699), where a blunder was enough for GM Kirill Alekseenko, the 2020-21 Candidates tournament wildcard, to get eliminated early. 
And last but by no means least, the current World Champion, GM Magnus Carlsen (2847), once again flexed his endgame muscles. In a seemingly equal endgame, Magnus - true to form - found the tiniest advantages in the position to make it 2/2 in his favour and eliminated the Croatian GM Sasa Martinovic (2548) from the tournament. Despite the size of the tournament, (mis?)fortune has ordained that Norwegian compatriot GM Aryan Tari will be facing GM Magnus Carlsen in round 3. 
Round 2 Game 2 - Women

GM Alexandra Kosteniuk (2472) provided a masterclass in coordinating the bishop pair against her opponent, WGM Deysi Cori (2388). Endgames with unbalanced material are notoriously tricky, but in this game Kosteniuk made it look straightforward. Cori perhaps overextended in trying to capture some of her opponents pawns, which only allowed Kosteniuk to beautifully coordinate her bishop pair, pawns and king, cutting Cori's pieces out of play and allowing the e-pawn to promote using a bishop to protect it from a rook in a quasi-Lucena position.
https://lichess.org/study/embed/19wqNO0Y/gKsZ4NZx#0
Meanwhile, in a game where she was constantly in control, GM Aleksandra Goryachkina (2596) showed off her status as top women's seed in the tournament. Entering uncharted territory on move 6, Goryachkina methodically dispatched her opponent, WGM Gulrukhbegim Tokhirjonova (2320).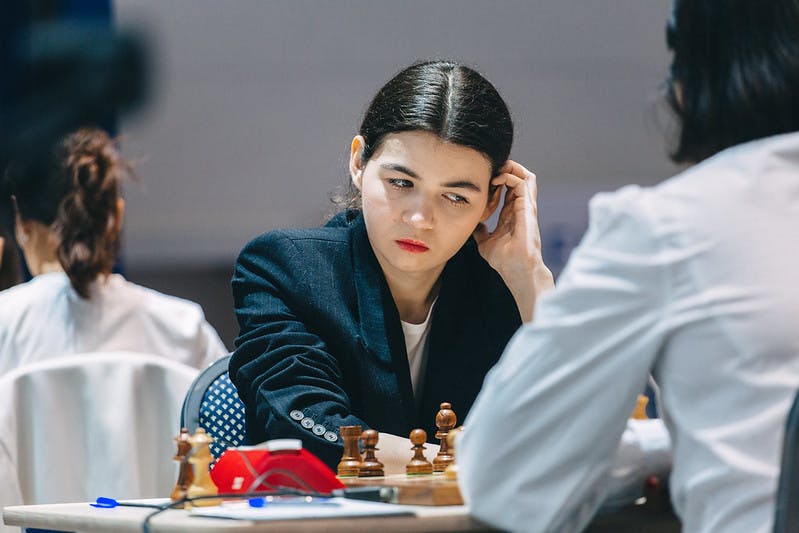 Goryachkina mid-game (Anastasia Korolkova / FIDE)

For fans of Checkitas, IM Laura Unuk's (2407) journey in the Women's World Cup  unfortunately came to a premature end. Shortly after equalising in a Caro-Kann Defense, she was unable  to find the only move to maintain this equality, and eventually succumbed to IM Gunay Mammadzada's (2460) attack.
Round 2 Tiebreaks - Open

The tiebreaks provided some of the biggest upsets of the tournament to date, with three of the strongest players in the tournament (by rating) eliminated from the event - once again highlighting the unique status of this tournament.

Without a doubt, the biggest shock must have been GM Alireza Firouzja (2759) - playing for the first time under the French flag after he transferred to the French federation - being eliminated by the teenage Uzbek GM Javokhir Sindarov (2558). Sindarov had chances but failed to convert in game 2 of the round. But notably, it was in the faster time controls Firouzja is so known for, where Sindarov won with an overall tiebreak score of 2.5 - 1.5 to eliminate the world no. 12 player. 
Additionally, GM Leinier Dominguez Perez (2758) - the world no. 13 -  after scoring 2 draws in round 2, lost 0-2 to GM Jakhongir Vakhidov (2534) in tiebreaks and was eliminated. In the first game of the tiebreaks, Vakhidov took advantage of his opponent's blunder, winning an exchange and going on to convert the advantage. In the second game, Vakhidov's superior play in the endgame and Dominguez Perez being in time trouble, sealed the result, with Vakhidov advancing to meet GM Pavel Ponkratov in the next round. 
The final big shock of the tiebreaks was the Iranian no. 1 rated player, GM Parham Maghsoodloo (2698) and 41st best player in the world, losing to 55 year old GM Kiril Georgiev (2594). Often, it might be expected that Maghsoodloo - higher rated, younger, and strong in fast time controls - would have come out on top in faster time controls. But Georgiev trapped Maghsoodloo's knight in the first tiebreaker, and up a piece went on to win it, then drew the repeated game with colours reversed to seal the deal. 
Round 2 Tiebreaks - Women

The Women's section round 2 tiebreaks also provided us with entertaining games full of fireworks. It would be impossible not to mention the one between IM Olga Badelka (2418) and IM Ana Matnadze (2421), the top women players from Belarus and Spain respectively. 
With both players scoring a win in the 25+10 portion of the tiebreak, they proceeded to the 10+10 section, with Badelka failing to convert her advantage in both 3rd and 4th game of the tiebreaks and Matnadze securing 2 draws, sending the match to the blitz portion. With both scoring one win each again, the match was sent to Armageddon.
This exciting match, with its promising final game,  was unfortunately largely decided by a crazy flag fight, which perhaps demonstrates why zero increment may not be exactly ideal for over the board chess. A solution could be for Lichess to host the 5 / 4+0 Armageddon games!
https://www.youtube.com/watch?v=otSiTlwTAnc&t=22743s 
Pieces sent flying as Matnadze lost on time.
A popular fan favourite, GM Pia Cramling (2459), managed to eliminate her opponent, GM Monika Socko (2393). After two draws in game 1 and game 2, and another two draws in the 25+10 portion of the tiebreaks, an oversight by the Swedish GM's opponent allowed Cramling to take the lead. In this position, Pia plays the strong move 30 ...c4, and after white's response of 31. e3, she was able to secure a passed pawn on the b-file and her opponent was shortly forced to resign, being unable to respond to Cramling's multiple threats. 
A draw in the second game of the 10+10 portion sufficed to advance to Round 3, with Alexandra Kosteniuk waiting on the other side of the bracket, setting up a potential firecracker of a game between two trailblazers of women's chess.
Coverage
Tune in to the Lichess Twitch channel starting 12:00 UTC for live coverage with IM Laura Unuk, today (18th), tomorrow (19th) and Tuesday (20th).