Livaic Wins the Pavlodar Qualifier!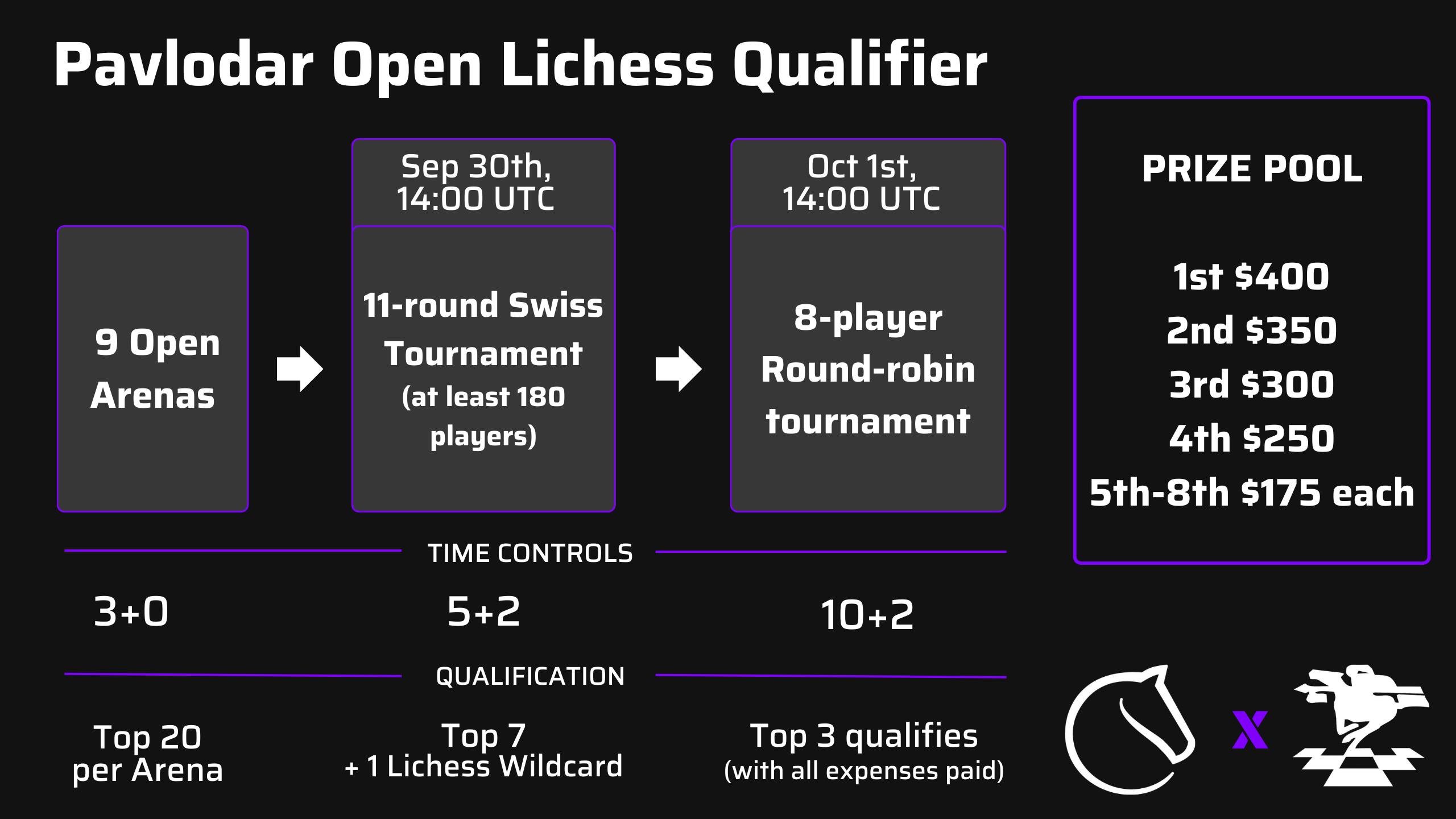 As mentioned in our announcement, the Pavlodar Open (third event of Kazakhstan Cup) granted three invitations with all expenses covered, to be awarded by a series of tournaments held on Lichess. Nine arenas in total were held within a week, at different times of the day, allowing players all around the world to compete, with the participation varying from 1600 to 4500 players each. With more than 100k games played, and only the top 20 from each arena qualifying, the competition was fierce, and many strong players had to play more than one qualifier to get a chance to go through.
The Swiss Stage was held on September 30th, featuring 127 players with an average(!) Lichess blitz rating of 2534. After 11 rounds, with the fight for the top spots being intense and unpredictable, @Aqua_Blazing (Valery Sviridov) prevailed for the second time in this series of events, in a 5-ways tie with 8.5/11, being the only undefeated player.
We have selected a few instructive positions for you to hone your skills:
https://lichess.org/study/embed/mEiL7ajS/4so5N67u
The three invitations were decided in the round robin final stage, with 7 players eventually participating. An average FIDE rapid rating of 2408 was promising some top-notch games and close fights until the end; and we definitely weren't let down. GM Leon Livaic managed to win the event undefeated with 4.5/6, followed by the 13 years old FM Edgar Mamedov, with 4/6, and GM Neuris Delgado Ramirez in 3rd place with 3.5/6, also undefeated.
In the game that probably decided the winner of the event, we witnessed Leon Livaic, who already had a positional edge, getting into a favourable imbalance of rook and two pawns for bishop and knight, and masterfully converting it:
https://lichess.org/study/embed/YQavLKwV/hWGJnF7a#39
Thanks to the Kazakhstan Chess Federation for their cooperation and generous patronage, and to everybody in the Lichess team who was involved!
If you are an organizer and would like to do something similar, do not hesitate to contact us!