2023 Lichess Meetup in Barcelona
A weekend in Catalonia's beautiful capital!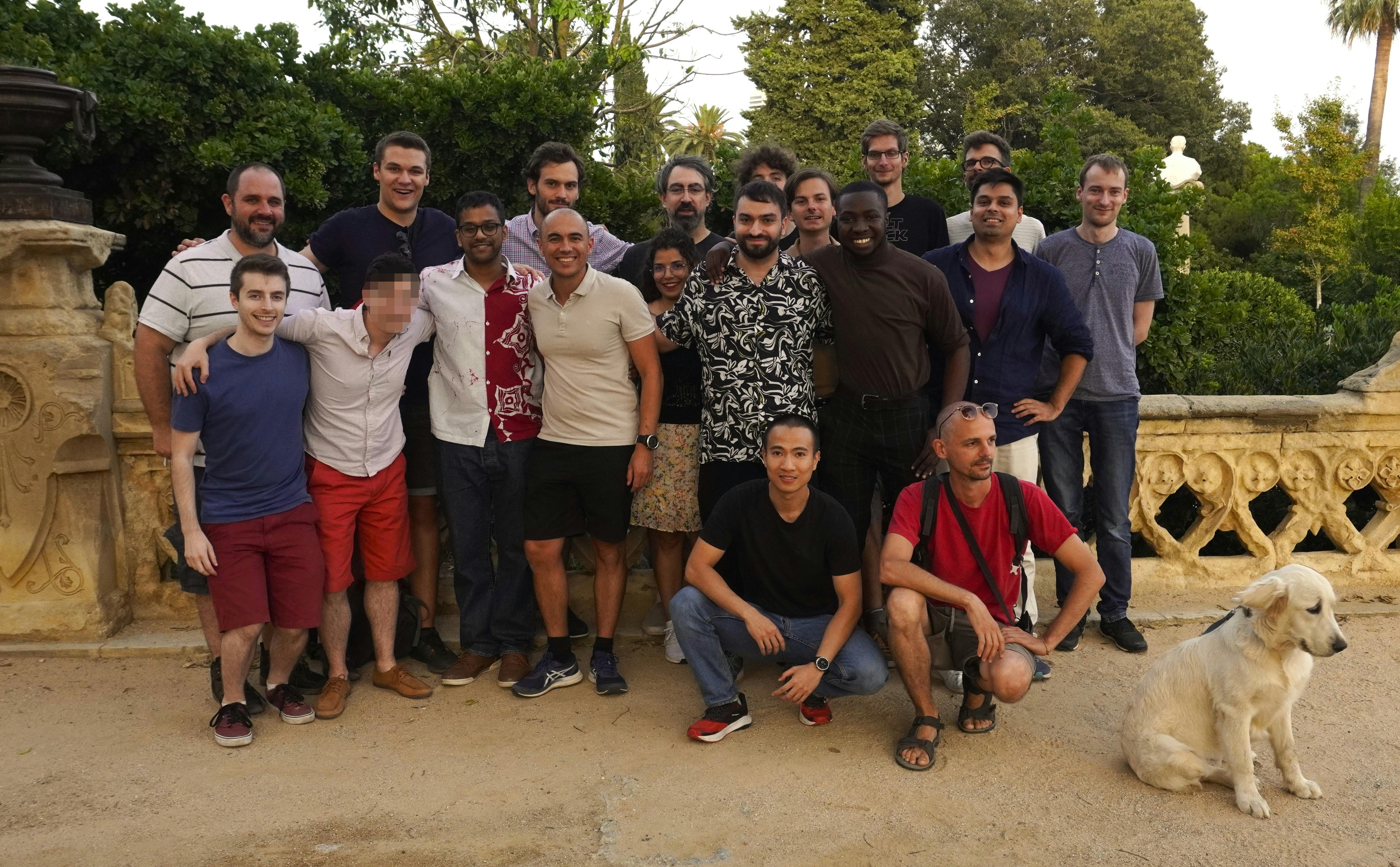 At the beginning of September, over 20 Lichess team members met up in Barcelona for what turned out to be the largest team meetup and community event held so far.
Meetups are a fantastic opportunity for contributors to meet each other and collaborate across all areas of Lichess. They're like extended hackathons but with less sleep deprivation and better food – it helps that some team members like to cook… while others can only be trusted with the washing up! There's usually time to fit in some sightseeing too, but the highlight for many is a community event in a public space where people can play casual OTB chess (or just hang out). 
In Barcelona we had team members from a wide range of countries and nationalities: Austria, Canada, France (and Brittany), Germany (and Bavaria), Italy, Lebanon, Morocco, Sweden, the United Kingdom, the United States, and Vietnam.
The team worked on multiple projects over the weekend. Lichess's founder and lead developer Thibault led an informal seminar about the codebase, Scala 3 and design choices. Our sysadmin Lucas led a similar session on servers and systems administration, and there was also a team-wide discussion about governance. Many bugs were also fixed, including one about correspondence email notifications that stayed below the radars for a while.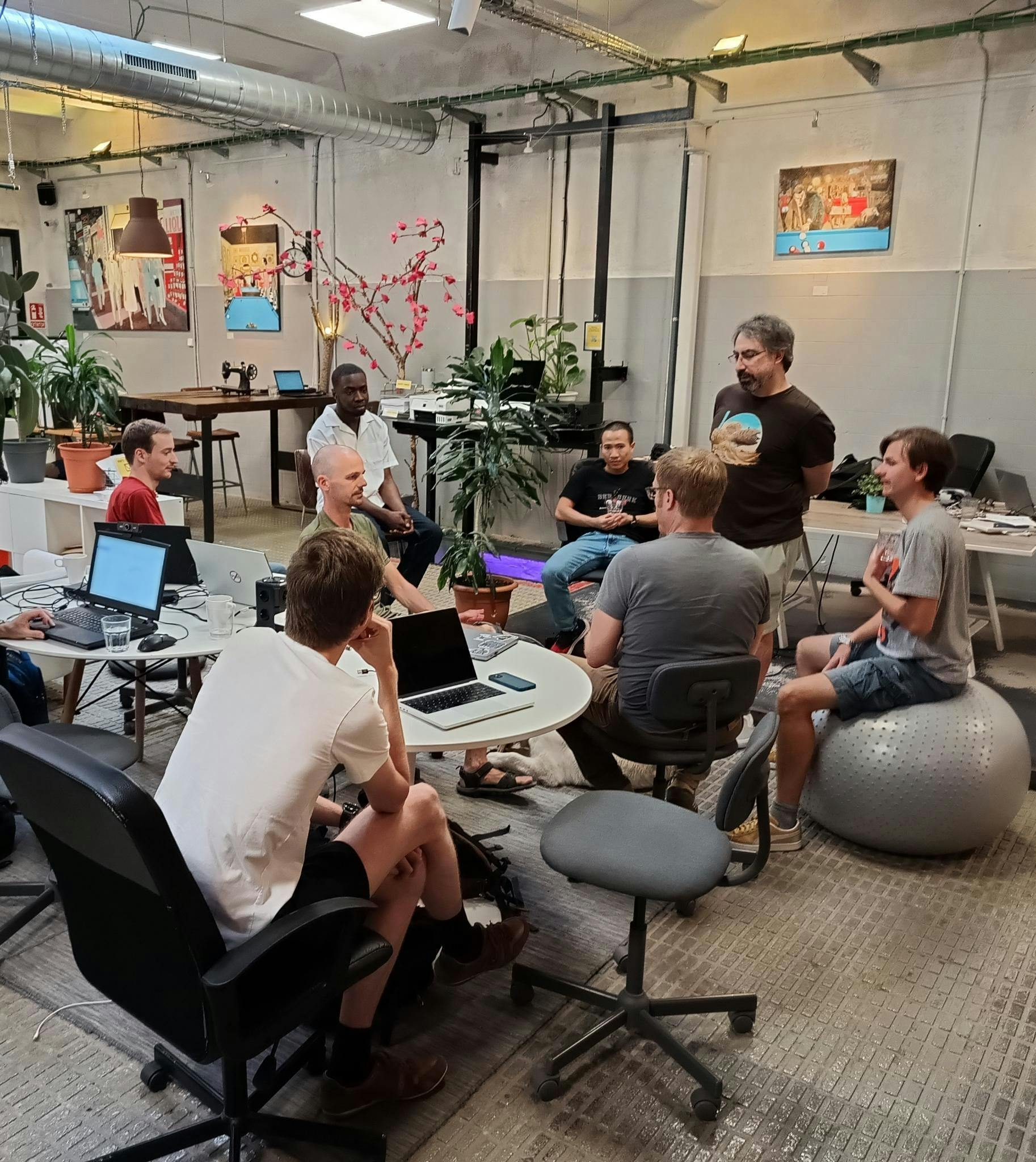 Devs discussing devilish dilemmas
A major thank you to La Vaca Coworking for being chilled about our office dogs, supplying unlimited tea and coffee, sourcing a great lunch and post-work beers, and generally being a fantastic co-working space. So much of our weekend was stress free because of them - if you're ever in Barcelona and need a place to work, do check them out!
The next day, some of the team chose to do a spot of sightseeing around the Sagrada Familia. A few others went for a run to the beach (and a swim). The wisest had a lie-in until late morning (or even later).
In the afternoon, we joined forces with the Barcelona Chess Meetup group, which organises casual chess meetups every Sunday in Parc de la Ciutadella. Armed with chess boards, beers, nibbles and soft drinks, we set up for a lazy afternoon of informal blitz games and hanging out in the park as the sun gently set over the Arc de Triomf.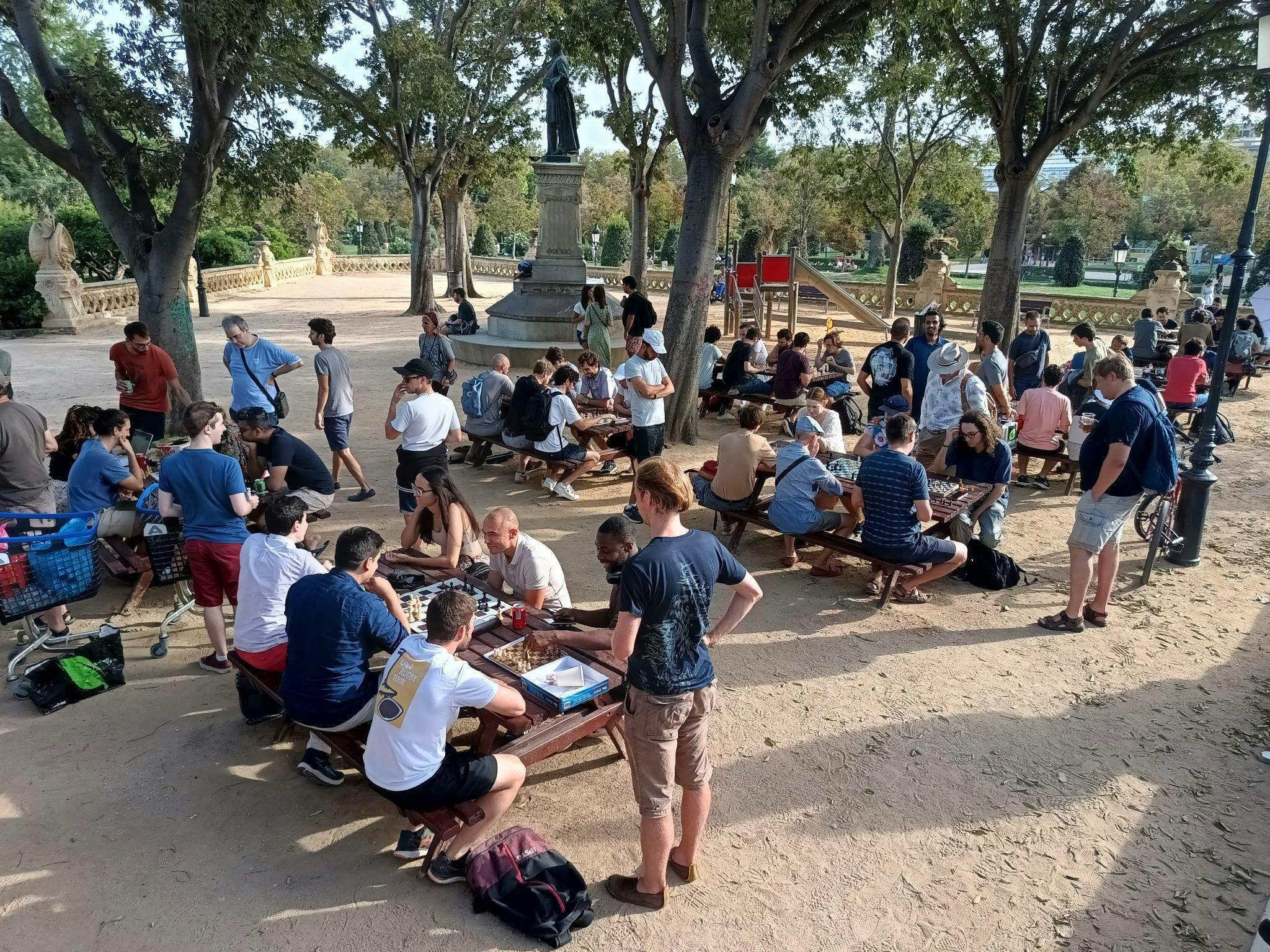 Everyone in the park enjoying IRLichess (as some like to call it)
The meetup was extremely well attended in spite of our late notification to local Lichess users. At times, there were over 125 people spread across the benches in the park - all playing, talking and watching chess. It was absolutely incredible to get to see and meet so many fans of the game and Lichess in such a beautiful setting.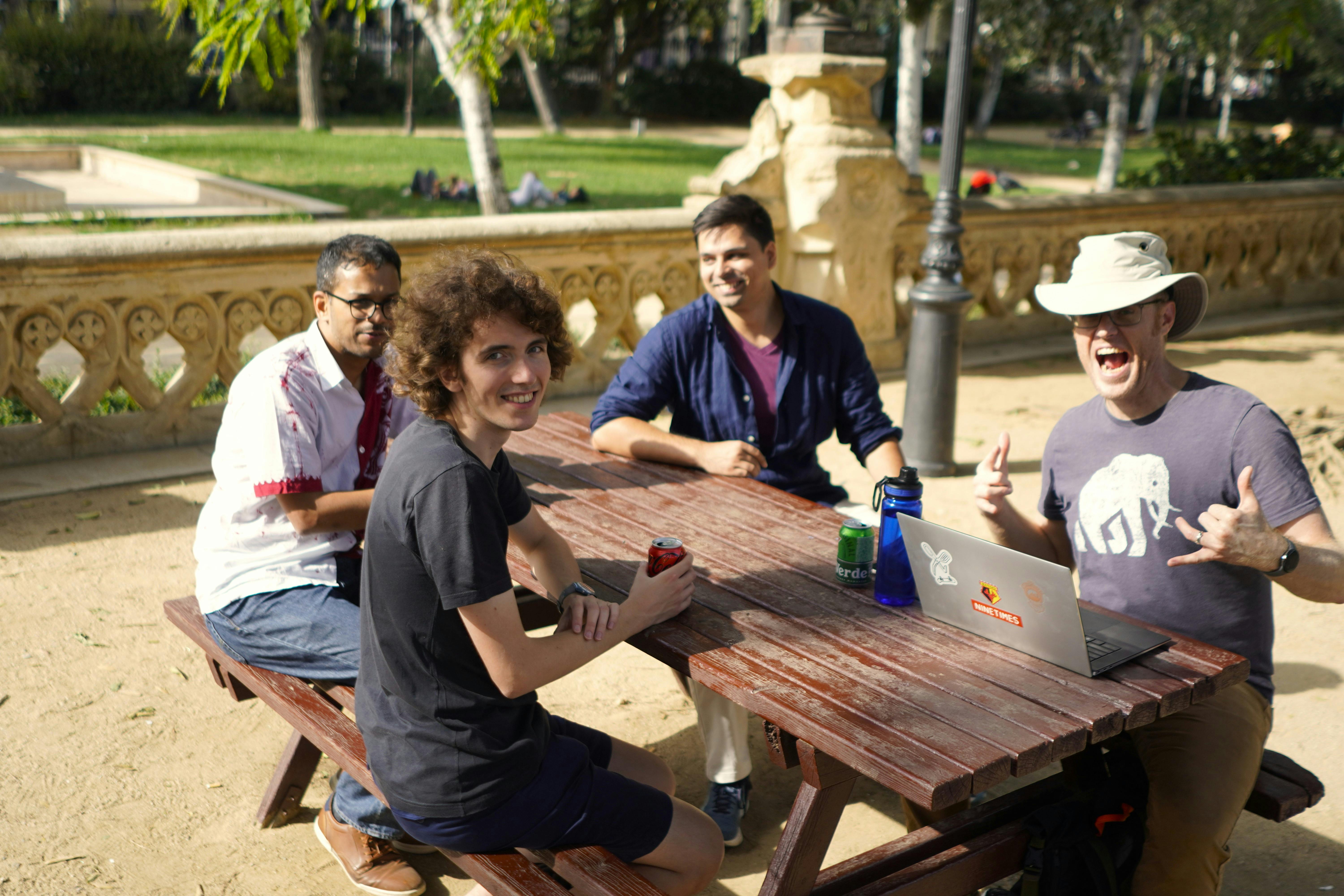 The "non-chess" table kept yelling "Leeeroooooy Jeeeenkins!" for some reason
Although Magnus Carlsen didn't show up like he did in Oslo in 2018, we were no less blessed by the presence of IM Greg Shahade and WGM Jennifer Shahade for various parts of the weekend. Several other titled players also attended the event in the park, but we think Greg maintained positive records against all challengers, albeit with a few close calls!
IM Greg Shahade challenges Lichess's finest (Nico)
If you're in Barcelona and fancy some casual chess, go check out the Barcelona Chess Meetup group, which meets every Sunday in the park when the weather's good.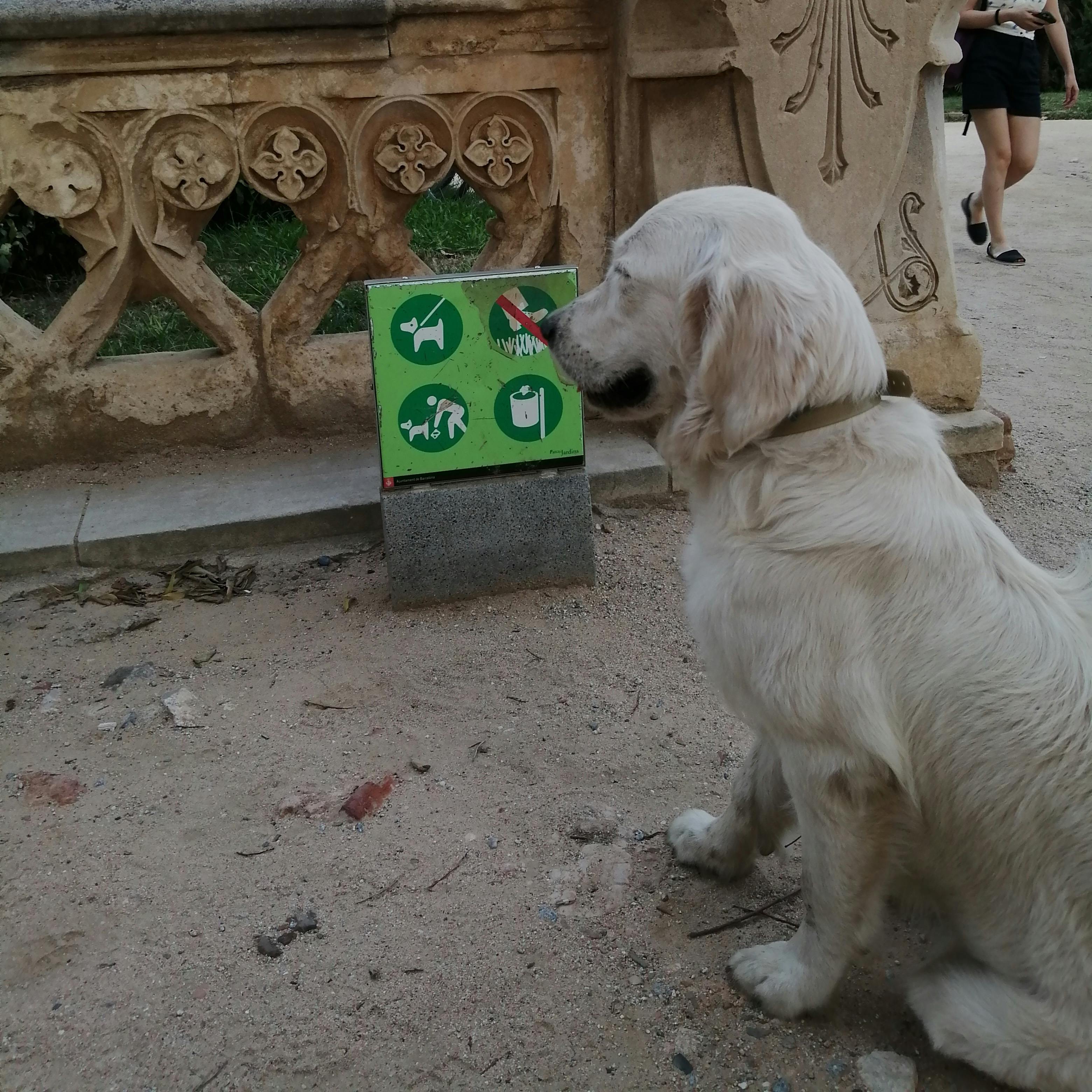 Cammy analysing the rules