Andreikin wins the Uralsk Qualifier!
Andreikin, along with Galaktionov, Sviridov, Sevgi, will play in the second stage of the Kazakhstan Cup, expenses covered!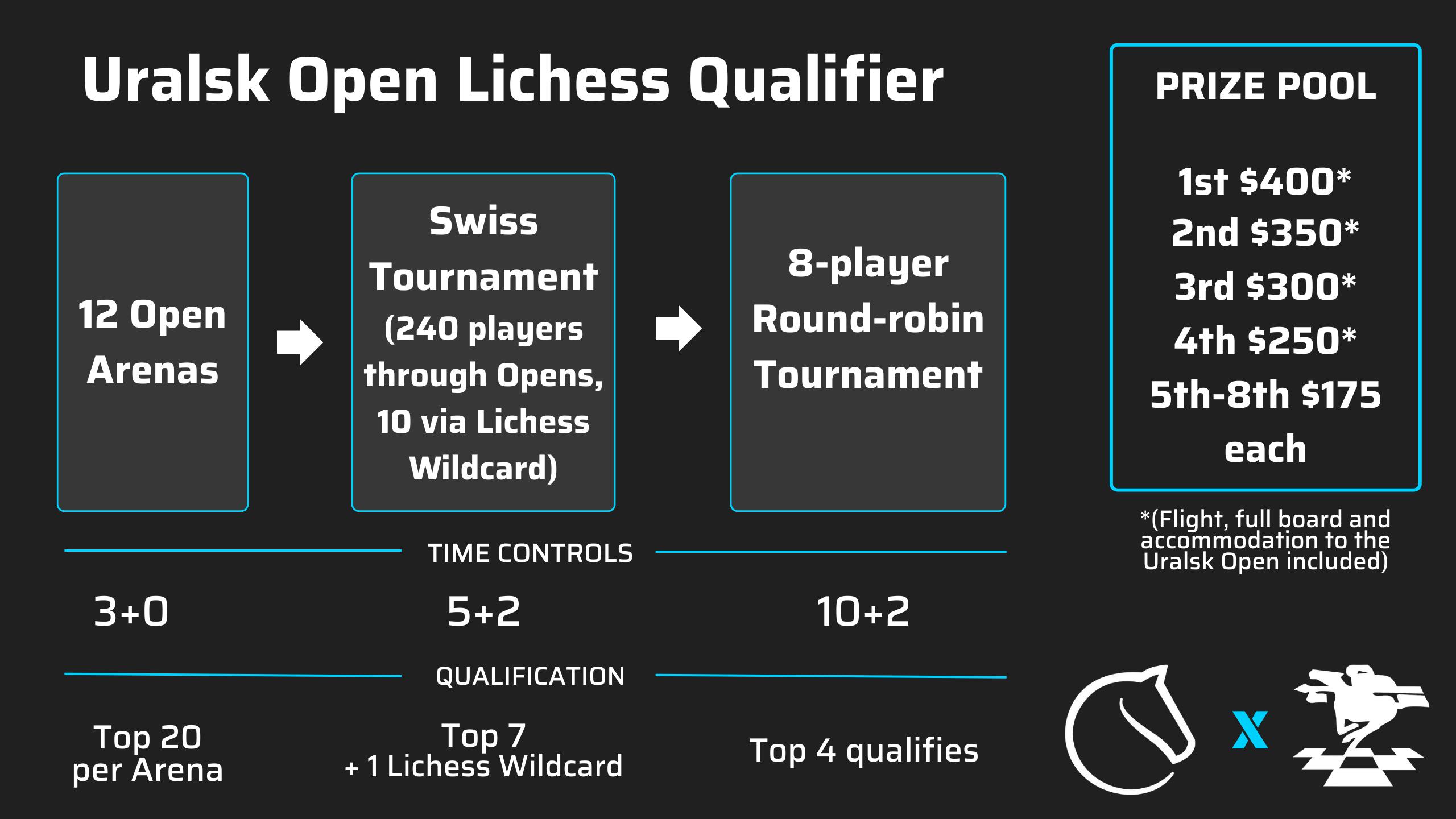 As mentioned in our introductory blog, the Uralsk Open (second event of the Kazakhstan Cup) decided to grant an invitation to four players, selected by a series of events held on Lichess. The first stage was divided into twelve blitz arenas which took place in a week, with starting times staggered over 24 hours, to allow for participation across the world. More than 175k games were played in this stage, many of which were already of a very high level: several strong titled players joined the event, along with over 35,000 total players! The fight for the top 20 was intense, and several strong titled players were forced to play more than one tournament to qualify for the second stage.
@Aqua_Blazing (Valery Sviridov, possibly the strongest non-FIDE titled player in the world) convincingly won, undefeated, the Swiss portion with 9/11, half a point ahead of a group of 6 tied players. 
(By the way, from the 704 games played we extracted 9 instructive positions of various levels and situations: have fun with Howard!)
https://lichess.org/study/embed/PM0Decm6/Ogvn6ajG
The clash for the invites took place in a round-robin format: 7 strong rapid players, led by the aforementioned Sviridov (untitled but with 2550 Fide Standard) and by GMs Ponkratov and Moroni, faced the Super GM Dmitry Andreikin: World Junior Champion in 2010, two-times Russian national champion, and the winner of a match against current World Champion Ding Liren in 2019.
None of the players managed to end the stage undefeated, and the general tone of the tournament was well represented by the round 5 game Volkan - Andreikin: a hand-to-hand combat with both kings exposed! This game didn't prevent Andreikin from winning solo, while it was probably decisive in granting Volkan the qualification.
https://lichess.org/study/embed/KxRgMnsp/ztEqcbXP
The organization of this tournament was more ambitious than the previous edition, but we are happy to call it a complete success! Thanks to the Kazakhstan Chess Federation for their cooperation and generous patronage, and to everybody in the Lichess team who was involved!
If you are an organizer and would like to do something similar, do not hesitate to contact us!