Carlsen versus Nepomniachtchi: FIDE World Championship Round 9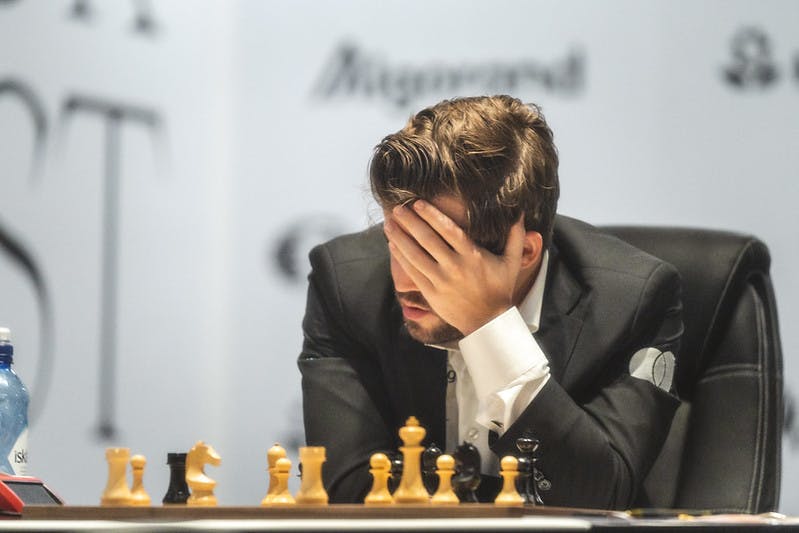 Round 9 of the FIDE World Championship was played today between the reigning champion, GM Magnus Carlsen and his challenger, GM Ian Nepomniachtchi.
Lichess is providing a broadcast of the moves being played in real-time. Additionally, GM Nijat Abasov is providing game annotations and insights on the games daily. Round nine's game annotations can be found below. Apologies for the delay in posting this one; our external content management system had issues due to AWS being down.
(title image - FIDE / Niki Riga)
After some tricky games for Nepomniachtchi, it was his time - refreshed after the rest day - to try and strike back with the white pieces. Many were predicting Nepomniachtchi to mix it up from his previous games, given the pressure he is now under, with Carlsen in the lead with two wins (5 - 3 match score). With a new haircut, Nepomniachtchi started off promising with 1. c4, with both players going off the beaten track (which has been a particular motif of this match) away from opening theory. However, Nepomniachtchi seemed well prepared, and much like in many of their previous encounters, the Russian appeared to have a slight edge through the opening and early middlegame.
https://lichess.org/study/embed/RoBvWqfx/qq4glFqA
Carlsen, however, is Carlsen and largely managed to equalise the position. However, judging from his use of time, it seemed very likely Carlsen was out of his preparation and coming up with the best moves over the board. Nepomniachtchi still seemed to be in a position and line he had greater understanding of - blitzing out a move before going back to his rest area. Consequently, whilst the position appeared to be quite balanced and equal, Carlsen was facing pressure on the clock.
By move 23, the pressure was so great that Carlsen only had 17 minutes left on his clock, with the next time control at move 40. But then, catastrophe struck Nepomniachtchi. On move 27, Nepomniachtchi rapidly played 27. c5, a one move blunder which allowed his bishop to be trapped, and eventually caught, for no compensation with the simple 27… c6.
Many commentators were surprised by the move, some suspecting a transmission error from the DGT boards, but others had proposed c5 themselves before being corrected by their co-hosts. All were unanimous that the pressure of playing the World Championship had likely taken its toll on Nepomniachtchi after a gruelling loss in game 6 and another, smaller, blunder in game 8. In the press conference, Nepomniachtchi simply clarified he had missed that 27… c6 trapped his bishop.
Carlsen quickly played 27… c6 and spent the next few moves coordinating his pieces to take the trapped bishop. Safely done so, Nepomniachtchi had a last try - attempting to promote his a-pawn, but once Carlsen neutralised that risk, Nepomniatchi resigned.
Currently, the match standings are 6 - 3 in favour to Carlsen, with a player winning when they reach 7.5. Theoretically, Carlsen just needs a win and a draw to have defended his World Championship title for a 5th time. As another statistic, prior to the match in their previous encounters, Nepomniachtchi had a positive record against Carlsen, with 4 wins, 8 draws, and 1 loss. Carlsen has now equalised this record (+4 =8 -4). Out of the current top players, only Andrei Esipenko and Andrei Volokitin can boast a positive record against Carlsen in classical games. 
The next game will be played on Wednesday 8 December 12:30 UTC. For more details on the tournament, you can review our first round recap which has more information.
(GM Nijat Abasov achieved the GM title at just 15. He was Azeri national champion in 2017, also winning the Baku Open the same year. He has played the Tata Steel Challengers and the Grand Swiss (twice), amongst many other tournaments, reaching his all-time peak rating of 2670 in February 2020. He recently represented Azerbaijan at the European Team Championships, winning a board prize with a performance rating of 2760).