Carlsen versus Nepomniachtchi: FIDE World Championship Round 7
7th round of 14 in the World Championships - and Lichess Titled Arena results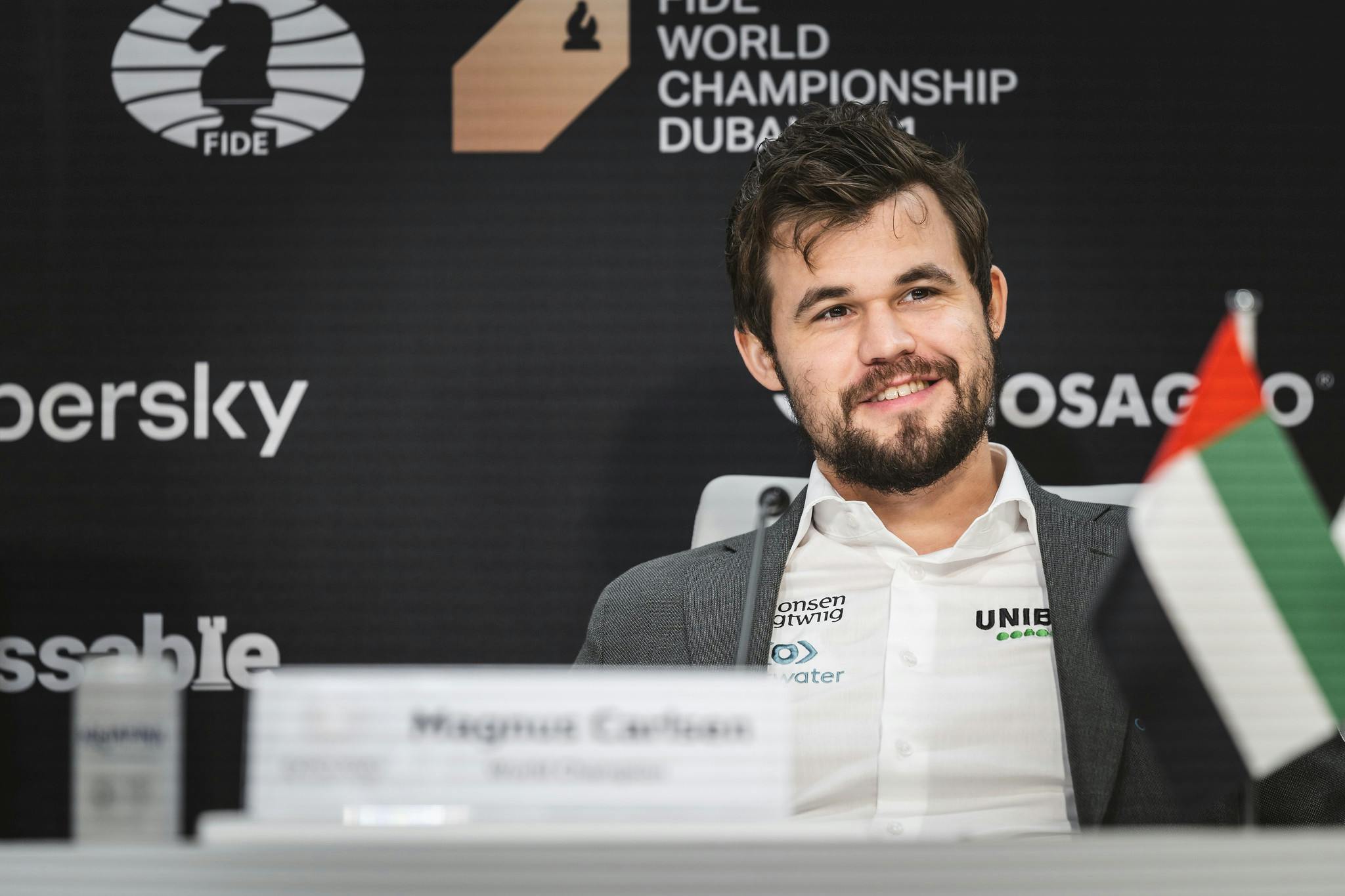 Round 7 of the FIDE World Championship was played today between the reigning champion, GM Magnus Carlsen and his challenger, GM Ian Nepomniachtchi.

(title image - FIDE / Niki Riga)

Lichess is providing a broadcast of the moves being played in real-time. Additionally, GM Nijat Abasov is providing game annotations and insights on the games daily. Round seven's game annotations can be found below.

After such a gruelling game in Round 6 - stretching on for several hours and setting a new record in terms of move number - both players understandably appeared to be fatigued during Round 7. Nepomniachtchi, with the white pieces, again opened 1. e4, and both players again opted for a closed Ruy Lopez. This was the fourth time a closed Ruy Lopez was played, with slightly different move orders distinguishing it from games 1, 3 and 5.
https://lichess.org/study/embed/RoBvWqfx/u8DwbJm4#0

On this occasion, white appeared to get a slightly less pleasant position than they had in previous clashes. Nepomniachtchi didn't seem to get the advantage he was seeking out of the opening - and accepted offers from Carlsen to trade down and prevent any complications very quickly. Many commentators have highlighted that Nepomniachtchi's strategy appears to be to aim for an advantage out of the opening and then keep it - much like his play in Round 2.

By move 30, both players had identical pawn structures and king placement, with a rook each. There was no significant attempt to seriously play further, with 2.5 moves of a threefold offered before a change of position, followed by an agreed draw on move 41. Carlsen, with the black pieces, was happy with a draw, given he is currently in the lead.

Interestingly, the game appears to have replaced Round 3's game as the most accurate game (as assessed by Stockfish 14 NNUE) to have ever been played in World Championship history.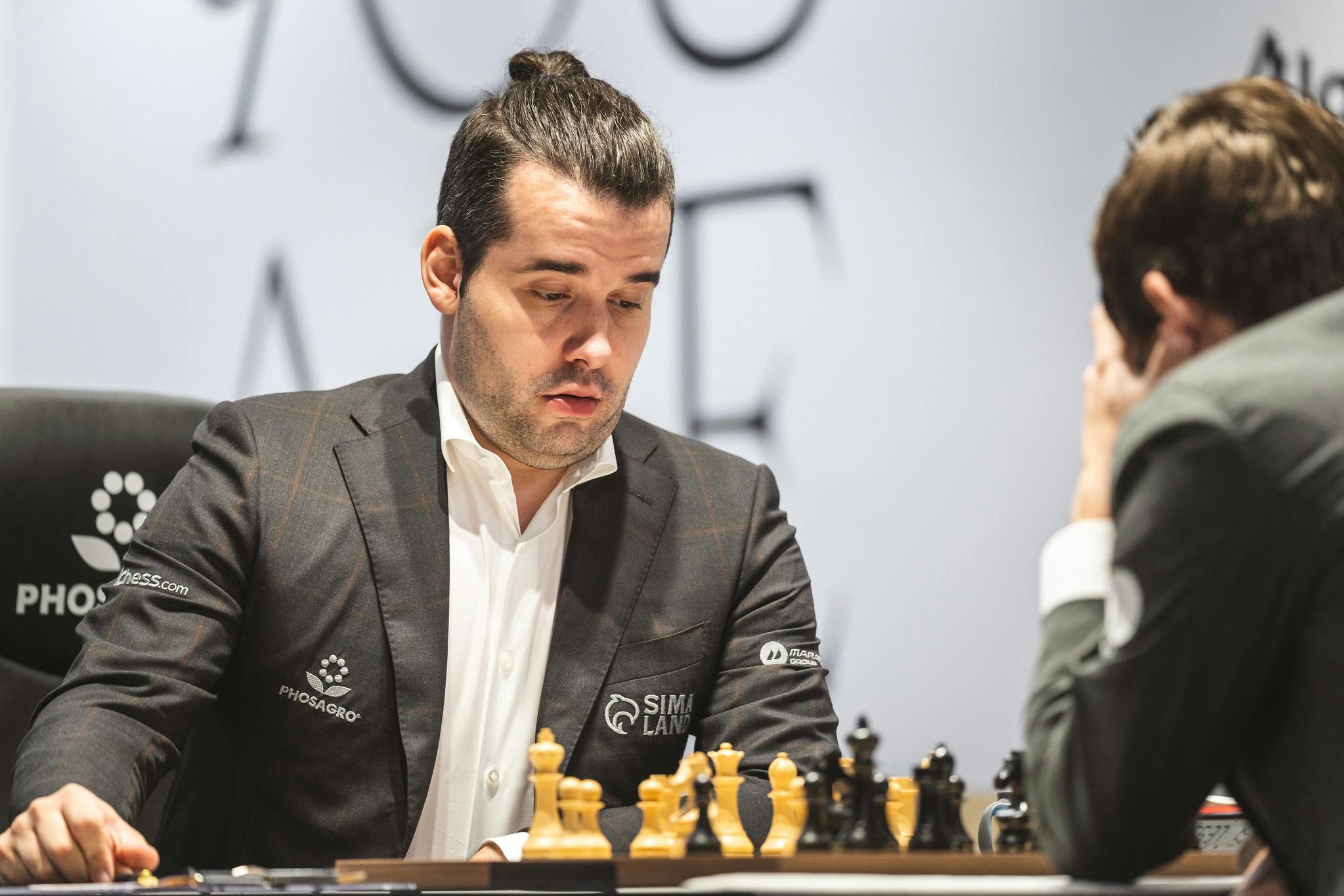 Nepomniachtchi considers his position in the game and match (Photo: FIDE/Niki Riga)
In other news! We had a Blitz Titled Arena! The time control was slightly faster and the event was significantly more online when compared to the World Championship. It was won by GM David Paravyan for the first time ever, although he is a regular in these events and always finished close to the top. Paravyan held off second-place GM Daniel Naroditsky who made his return to Titled Arena play after a 2month absence. IM Laura Unuk provided live commentary.


The next World Championship game will be played tomorrow, 5 December 12:30 UTC. For more details on the tournament, you can review our first round recap which has more information. The Next Titled Arena will have a 1+0 time control and be on December 18th.

(GM Nijat Abasov achieved the GM title at just 15. He was Azeri national champion in 2017, also winning the Baku Open the same year. He has played the Tata Steel Challengers and the Grand Swiss (twice), amongst many other tournaments, reaching his all-time peak rating of 2670 in February 2020. He recently represented Azerbaijan at the European Team Championships, winning a board prize with a performance rating of 2760).