Carlsen versus Nepomniachtchi: FIDE World Championship Round 1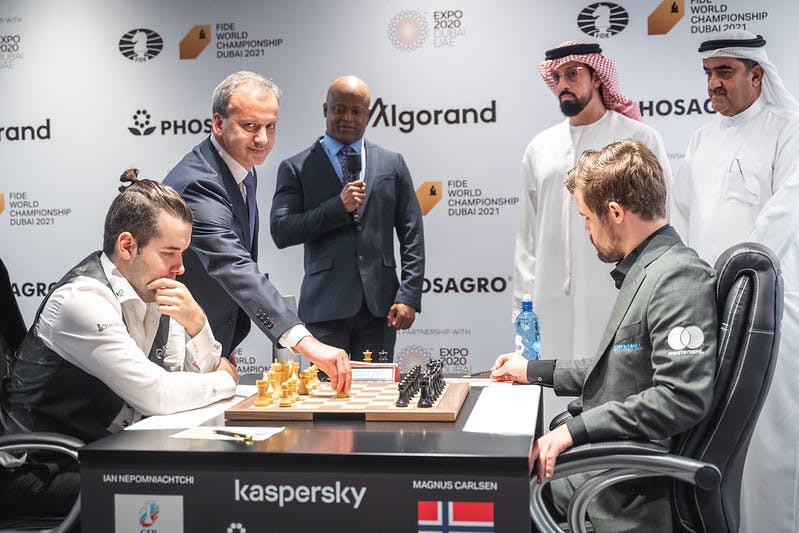 Round 1 of the FIDE World Championship was played today between the reigning champion, the Norwegian GM Magnus Carlsen, and his challenger, the Russian GM Ian Nepomniachtchi. Nepomniachtchi is playing under the Chess Federation of Russia flag due to WADA sanctions on Russia.

(title image - FIDE President Arkady Dvorkovich makes the symbolic first move for GM Ian Nepomniachtchi - FIDE / Niki Riga)

Played in a balmy Dubai - enjoying winter sun and temperatures over 25 degrees - the two players will battle it out across 14 games to determine who carries the crown of world champion. In addition to the title signifying who is the undisputed best chess player in the world, a prize fund of $2,000,000 (USD) is also at stake.

Lichess will be providing a broadcast of the moves being played in real-time. Additionally, GM Nijat Abasov will be providing game annotations and insights on the games daily, which can be found below:
https://lichess.org/study/embed/RoBvWqfx/FncZMPtk#1
(GM Nijat Abasov achieved the GM title at just 15. He was Azeri national champion in 2017, also winning the Baku Open the same year. He has played the Tata Steel Challengers and the Grand Swiss (twice), amongst many other tournaments, reaching his all-time peak rating of 2670 in February 2020. He recently represented Azerbaijan at the European Team Championships, winning a board prize with a performance rating of 2760).
Attendees at the match speculated that Carlsen looked a little bit more nervous than Nepomniachtchi prior to the game start, but any sign of nerves were quickly exorcised in the opening. Whipping out 17 moves of theory despite going into a minor sideline of the Ruy Lopez at move 8 (and a novelty above 2500 rated players), Carlsen didn't seem to even be breaking into a sweat.

Pieces were quickly exchanged and it appeared Nepomniachtchi was starting to get a little frustrated with the position he had ended up with. Although looking relatively equal and with all evaluations suggesting a draw with perfect play, 15th World Champion GM Viswanathan Anand, commentating for FIDE, highlighted that the structure and position of the game favoured Carlsen.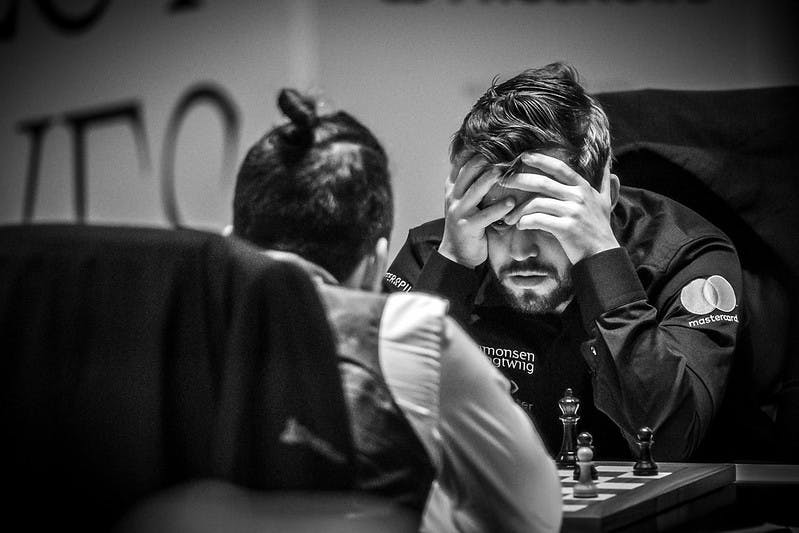 (image credit - FIDE / Eric Rosen)

However, Carlsen didn't seem so keen - and after a few half-hearted skirmishes offered a repetition to Nepomniachtchi, which was accepted. Perhaps Carlsen wanted to tactically conserve his energy for later in the match, and in any event, getting a draw with the black pieces is considered good at the highest levels of chess.