GM Oleksandr Bortnyk wins November Bullet Titled Arena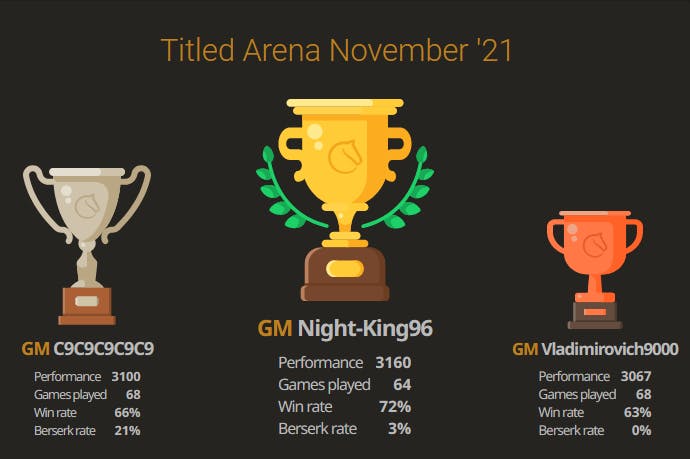 The November Lichess Bullet Titled Arena was won by GM Oleksandr Bortnyk, who had also won the November Lichess Blitz Titled Arena. Bullet maverick GM Andrew Tang, who closely trailed behind Bortnyk and had a taste of the #1 spot at several points in the tournament, finished in second place. Third place went to the ever-consistent GM Dmitry Andreikin. Finishing in the money in fourth and fifth place were the anonymous GM Feeglood and the rising young star, IM Denis Lazavik.
It became clear that the tournament was going to be a two-horse (and a penguin?) race about 40 minutes into the tournament, when Bortnyk and Tang were already 7 points ahead of third place. At that point, Tang was leading with 50 points and Bortnyk was on a streak and had 48 points. Tang also had a good start, as 2 minutes in, he was already leading the tournament. However, he lost the lead after a berserk gone wrong, but bounced back with a win and then even managed to eke out a berserk win against Crazyhouse World Champion, NM Jasugi99. Bortnyk and Tang would then take turns at the lead, with Bortnyk amassing a 6-point lead an hour into the tournament. At that moment, Bortnyk was at 92 points, Tang at 86, and GM Sanan Sjugirov was only at 63 points in third place.
The second hour was not much different, as the battle for first was once again rather tight; Tang got the coveted first-place podium spot with 41 minutes left (115 for Tang vs. 114 for Bortnyk). With about 17 minutes left, Bortnyk was on fire at 132 points, while Tang was behind at 128 points. A crucial win by Bortnyk against Tang propelled him to first place, while Tang managed to lose four in a row. The battle remained rather tight, though, and, while Bortnyk was maintaining a good lead over Tang, with 4 minutes and 39 seconds left, he let up — Bortnyk had 146 points, while Tang was on fire at 145 points.
Obviously, the fateful pairing occurred, and Bortnyk managed to win, making his match score against Tang in the Titled Arena 4-2. After that game, Tang did manage to get a berserk win against young talent FM Emin Ohanyan, and, with 2 minutes and 16 seconds left, Bortnyk and Tang were tied with 148 points (with Bortnyk having the better tiebreaks). However, Tang lost his remaining games, while Bortnyk won one more and drew another.
We will take a look at one spectacular game from each of the three podium finishers. Of course, it's not all about the winners! Two more sections are devoted to some fun games that occurred in this exciting bullet Titled Arena.
#1 - GM Oleksandr Bortnyk
GM Bortnyk is a well-known proponent and practitioner of the Alekhine Defense. In this game against young GM David Paravyan, Bortnyk gets a very natural setup against the Larsen Variation of the Alekhine, and slowly outmaneuvers his opponent, bringing his pieces to very natural squares. Qa5-Qf5 was quite a nice touch. Of course, Paravyan blundered badly, but such blunders arise not just because of carelessness or inattention, but also because getting outplayed in the Alekhine is never a pleasant situation for a super GM!
https://lichess.org/RVXEzDrq/black
#2 - GM Andrew Tang
GM Tang is a famous Londoner / Bf4'er. In this game against GM Sergei Zhigalko, Tang plays the London with a dash of pizzazz, first going for 7. Qf3 to signal his aggressive intentions. Zhigalko does not respond in the most accurate way, following up with the highly weakening 8...f5. Zhigalko also allowed White to open up the g-file and infiltrate on said file, so his defensive task after that indulgence was surely doomed to fail. Tang proceeded to allow his king to come to d2, where it was in fact rather safe, and, save for a few bullet inaccuracies, Tang played a model attacking game.
#3 - GM Dmitry Andreikin
GM Andreikin needs no introduction. A former child prodigy and world junior champion, Andreikin(g) has an illustrious online career as well as he is one of the world's most powerful speed chess (blitz and bullet) players. In this game against Tang, Andreikin plays a model attacking game. Tang plays a rare line of the Queen's Gambit Declined, which is somewhat reminiscent of the (mouthful) Tartakower-Makogonov-Bondarevsky System. Watch out for Andreikin's stunning queen maneuver — Qd2-Qf4-Qg3-Qh3. Despite all the warning signs of imminent danger, Tang still fell for the familiar Bxh6 tactic (but, hey, it's bullet!), after which Andreikin duly converted his winning advantage.
Longest Game
IM chessmaster2006 and IM Gianmarco Leiva played the longest game of the tournament, managing to play 108 moves in bullet!
Worst Premove
Can anyone say Lefong? NM zorch81 probably didn't expect his opponent, WFM Funkmaus, who streams on Lichess, to be so tricky.
https://lichess.org/sim7BajN/black
Coverage
Giving commentary for the Lichess Youtube/Twitch channels was WFM Fredericia:
https://www.youtube.com/watch?v=d549eEmXoRM
Puzzle Pack and the Next TA
Enjoy our Puzzle pack with puzzles from the event!
https://lichess.org/study/306Zmv0a
The next Titled Arena is on December 4.
If you liked this blog post please check out more of FischyVishy's work.