FIDE Chess.com Grand Swiss Riga Recap - Rounds 7 to 11, and the Tal Memorial Blitz
The Grand Swiss in Riga continued after the rest day, which saw players visit a national park just outside the capital.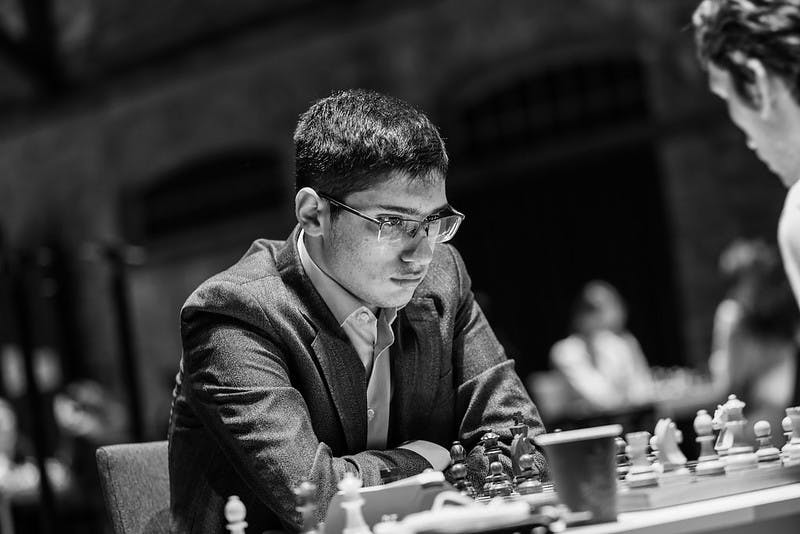 If you missed our rounds 1 to 6 recap, and want to read that first, you can read it here. As a reminder, the Grand Swiss in the Open category gives two spots to the Candidates Tournament (to 1st and 2nd place), and 5 spots to the Grand Prix (3rd to 8th), a tournament which also gives the opportunity to enter the Candidates Tournament. In the Women's category, 1st place receives a spot into the Women's Candidates, with 2nd to 5th earning a spot in the Women's Grand Prix.

(title image credit: GM Alireza Firouzja - FIDE / Anna Shtourman)

The Tal Memorial was a one day, 18 round blitz event which is a separate event but was hosted just a day after the closing ceremony of the Grand Swiss.

In the Open category, Iranian prodigy GM Alireza Firouzja continued to dazzle, winning the event outright on 8 / 11. American stalwart GM Fabiano Caruana came second on tie-break, with 7.5 / 11, ahead of Russian GM Grigoriy Oparin who came third (the same points, but a worse Buchholz score, used as the first tie-break). 

Joining Oparin in the Grand Prix, GMs Yu Yangyi, Vincent Keymer, Maxime Vachier-Lagrave and Alexei Shirov came 3rd to 8th place, all on 7 / 11. Also on 7 / 11 but nudged out due to the tiebreaks included GMs David Howell, Anton Korobov, Andrey Esipenko and Vladislav Artemiev, amongst several others. 

In the Women's category, Chinese GM Lei Tingjie raced away with the event, with a completely dominant 9 / 11. German GM-elect, Elisabeth Paehtz, took 2nd place with 7.5 / 11, nudging ahead of WGM Zhu Jiner on tiebreak, who took 3rd. GMs Mariya Muzychuk and Harika Dronavilli will be joining Paehtz and Jiner in the Grand Prix, taking 4th and 5th on tie-break with 7 / 11. 

Meanwhile, in the Tal Memorial - a blitz event held a day after the Grand Swiss - Ukrainian GM Kirill Shevchenko took 1st with 14 / 18, followed by GM Fabiano Caruana on 13.5 / 18 in 2nd place, ahead of GM Arjun Erigaisi on tie-break who came 3rd also with 13.5 / 18. 
Round 7:
Out of the top 10 boards in the Open section, GM Alireza Firouzja was the only player to achieve a decisive result, marking the first defeat of Russian GM Evgeniy Najer. Both players opted for a Petrov, following the first 16 moves Wesley So had played and won against Yu Yangyi in 2019. Najer diverged with 17… d4 trying something new and untested. Despite inaccurate play from both players, black seemed to be holding well, and eventually entered into what appeared to be a likely drawn endgame. Both players had a rook, with the f, g and h pawns, although white had a passed pawn on the a file.
https://lichess.org/study/embed/wpg4deii/ugPPJtRn#33
Black was able to develop their own passed pawn on the f file, and the game truly looked completely drawn. But, after several hours of play, Najer's concentration appeared to drop in a completely critical position - promoting his passed pawn for a queen, and immediately losing it with no compensation against Firouzja. A few moves later, Najer resigned.

Meanwhile, GM Alexei Shirov - approaching his 50th birthday - held one of the strongest juniors - 19 year old GM Andrey Esipenko to a draw. Readers will remember that Shirov also held the strongest junior in the world - 18 year old GM Alireza Firouzja - to a draw in the previous round.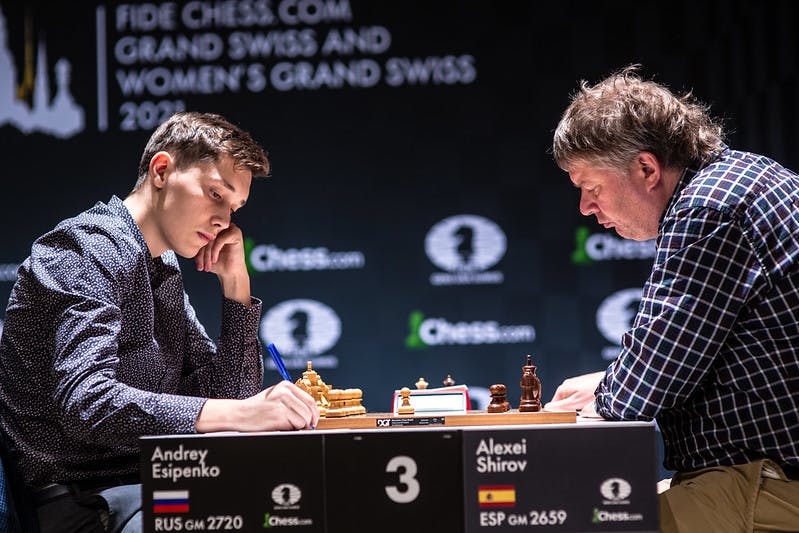 (GM Andrey Esipenko, left, versus GM Alexei Shirov, right - photo credit FIDE / Anna Shtourman)

In the Women's section, both IM Elisabeth Paehtz and IM Bibisara Assaubayeva continued performing well and appear to be on track to win their final GM norms by round 9 of the event. GM Lei Tingjie remained in the sole lead in the Women's section, with a win with the black pieces against GM Nino Batsiashvili.

Round 8:
English GM David Howell was matched against one of the top prospects of Russian chess, the 19 year old GM Andrey Esipenko. Already breaking into the top 25 players of the world, the result of this game was important for both to have chances to make the podium of the event. 
The game was an unusual variant of the King's Indian Attack, with Howell later confessing he was out of prep by move three. Even so, white had an unusual but relatively equal out of the opening. But Howell had Grischuk-like time management, giving him 1 minute on the clock (plus 30 second increment) against Esipenko's 15 minutes by move 25. In the scramble to make the time control, Howell made some dubious moves - but Esipenko equally in time pressure, blundered back.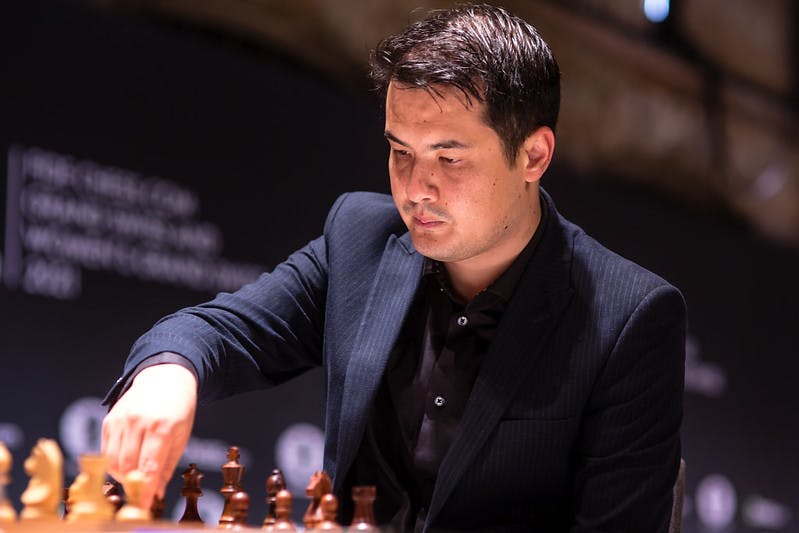 (GM David Howell - photo credit FIDE / Anna Shtourman)

After achieving additional time at move 40, Howell had a slightly more playable position than Esipenko, which he continued to build on, converting it into a crushing kingside attack. Esipenko - despite being two pawns up - resigned, in a lost position. 
https://lichess.org/study/embed/sOvZ5AeY/tfpRGBOL#121
The game brought Howell into the group chasing Firouzja, along with GMs Fabiano Caruana and Maxime Vachier-Lagrave. 
Round 9:
In the Women's section, GM Lei Tingjie, with black, faced Russian GM Alexandra Kosteniuk. Tingjie, playing the tournament of her life on a completely crushing 7 / 8 going into round 9, opted for a variant of the Caro-Kann favoured by Kosteniuk in the past. In fairly unnavigated waters by as early as move 8, both players navigated the remainder of the opening over the board - without relying on any prep or study from home. With queens and most pieces traded off early, both players went into a double-rook endgame.
https://lichess.org/study/embed/wYsJbsBD/GrN33mri#16
Black was able to exchange pawns favourably, maintaining a one-pawn difference in the position. With most pieces on the board, Tingjie was able to take advantage of the favourable endgame to convert the full point - taking her to a jaw-dropping 8 / 9 with wins with black against some of the strongest women players in the world.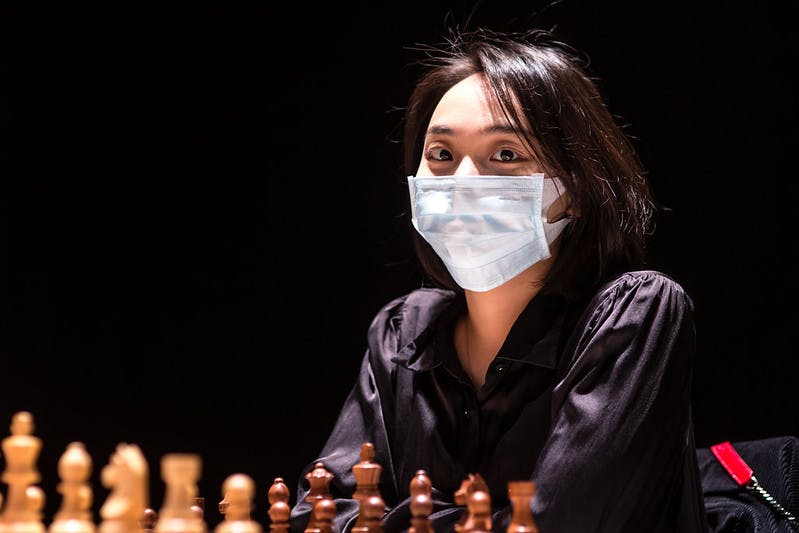 (GM Lei Tingjie - photo credit FIDE / Anna Shtourman)
In the Open section, GM Fabiano Caruana played GM Alireza Firouzja in a Caro-Kann Tal Variation, similar to the game Firouzja had played against Shirov 3 rounds earlier (where Shirov drew). Diverging from Shirov's game, Caruana was able to gain an advantage, hold it, and fully convert it against the prodigy - significantly boosting Caruana's chances of making the podium by winning against the tournament leader.
GM David Howell - once again despite remarkable time pressure - defeated Ukrainian GM Anton Korobov, making Howell joint-first alongside Firouzja and Caruana, all on 6.5 / 9.
Round 10:
In the penultimate round, it was all to play for, with 13 players within 0.5 points of first place, and 29 players 1 point from first place. 
On board 1, GM Alireza Firouzja played against GM David Howell in a crucial match - a draw could be enough to keep their hopes alive, but a win by either player would likely cement their place in the top 2. Playing the Italian Game, both players blitzed out the opening, and appeared to enter a roughly equal middlegame. Howell then went into a series of long thinks between move 20 and 23, costing him around 40 minutes of his time. Under time pressure, Howell began succumbing to a ferocious attack from Firouzja, before finding the magnificent 31… Qc6 which gave equality back to the position, and which Firouzja later admitted to overlooking. 
https://lichess.org/study/embed/DRz3VjI1/Fe5fROPo#61
Howell had further chances to equalise, but it would be an uphill struggle for him, being a pawn down. Entering a double-bishop endgame, Howell's inferior pawn structure and in particular his isolated and extended pawn on d4 became too much of a liability, and Firouzja was able to start picking them off. With no way to get back into the game, and white winning, Howell resigned.

Meanwhile on board 2, GM Fabiano Caruana played GM Maxime Vachier-Lagrave, with both players drawing. On board 3, Russian compatriots GM Grigoriy Oparin won against GM Nikita Vitiugov in a wild game. Oparin eventually ended up better, and was able to convert the game into a win - putting Firouzja in the sole lead again on 7.5 / 10, with both Caruana and Oparin on 7 / 10.
In the Women's section, GM Lei Tingjie drew against GM Mariya Muzychuk, whilst IM Elisabeth Paehtz drew against GM Harika Dronavalli. The result made it mathematically impossible for Tingjie to be overtaken - and secured Paehtz's 3rd GM norm, to make her a GM-elect (subject to confirmation at the next FIDE Council). 
Round 11:
With a draw between GM Alireza Firouzja and GM Grigoriy Oparin, Firouzja secured first-place in the Grand Swiss, becoming one of the youngest chess players to qualify for the Candidates tournament  at 18 and 5 months (GM Magnus Carlsen remains the youngest, at 14 years old - albeit in a slightly different method of qualification).

It's been an impressive tournament from the young player which saw him rise to number 4 in the world on the live lists, and gain 11.5 rating points - a massive achievement at this level, which may indicate Firouzja is still growing and improving as a chess player. 
Meanwhile, GM Fabiano Caruana, a former Challenger to the World Champion, multiple time Candidate, and world number 3 player, also qualified to the 2022 Candidates Tournament by taking 2nd place. Qualification to the Candidates will undoubtedly take pressure off Caruana, and equally boost his confidence following the end of his work with long-time second, GM Rustam Kasimdzhanov.

3rd place, also with 7.5 / 11 but weaker tie-breaks, went to Russian GM Grigoriy Oparin, who in addition to winning the prize money qualified through to the Grand Prix - an event which offers the winners a further two spots in the Candidates. There were 13 further players all on 7 / 11, putting them 4th - 17th, with places given by tie-break.
Players now in the Candidates 2022 include:
Magnus Carlsen or Ian Nepomniactchi - The loser of the 2021 World Championship match (starts end of November)
Teimour Radjabov - FIDE Wildcard
Jan-Krzysztof Duda - World Cup Winner
Sergey Karjakin - World Cup Runner-up
Alireza Firouzja - Grand Swiss Winner
Fabiano Caruana - Grand Swiss Runner-up
TBD - Grand Prix Winner
TBD - Grand Prix Runner-up

In the Women's section, GM Lei Tingjie was already 1.5 points ahead of the competition in round 10. A draw against compatriot GM Zhu Jiner maintained her spot in 1st, with an astounding 9 / 11. Tingjie will qualify for the Women's Candidates Tournament.

GM-elect Elisabeth Paehtz nudged ahead of GM Zhu Jiner to take 2nd place on tiebreak, with Jiner taking 3rd. They will both qualify to the Woman's Grand Prix - which also offers further Women's Candidates spots. Joining them will be GM Mariya Muzychuk and GM Harika Dronavilli, who took 4th and 5th respectively.