Sparrow Chess Catches Streamers Team Battle Victory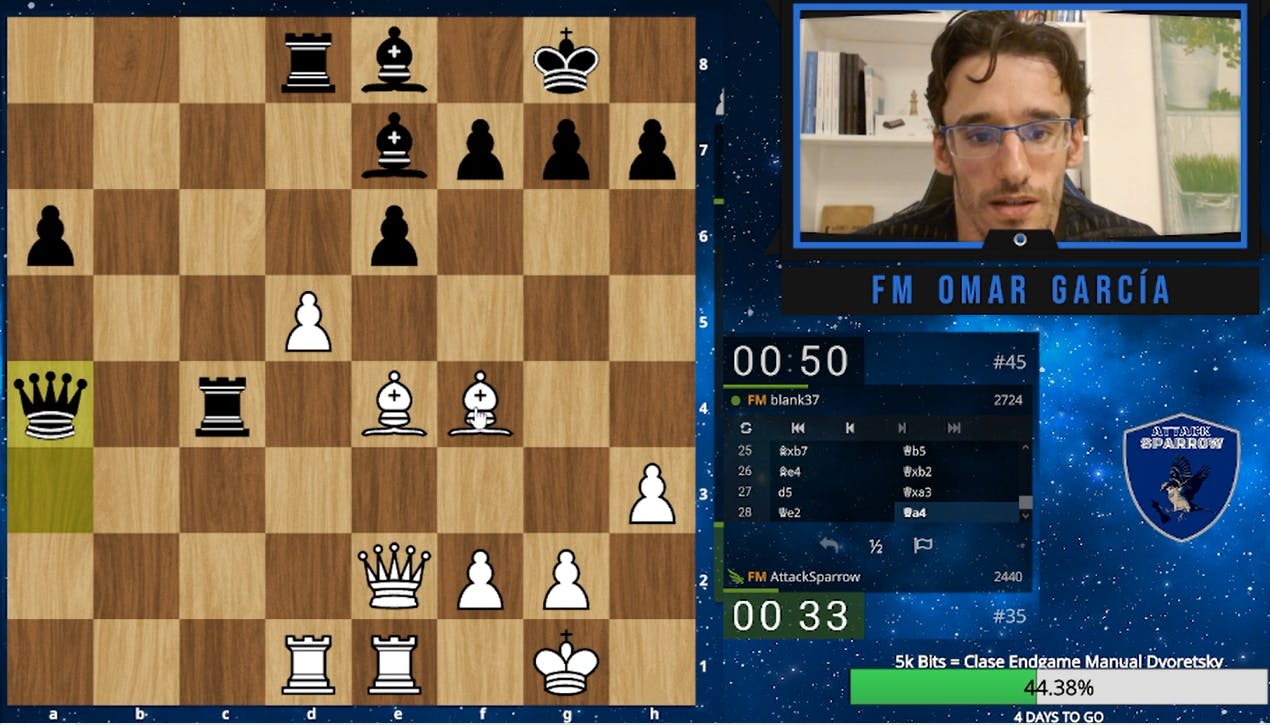 The September edition of the Streamers Team Battle with all of Lichess' top streamers ended the day before yesterday with a surprising and close victory for the Spanish team Sparrow Chess with 1106 team points and its 167 team players. For every team, the best 20 player results of each team counted for the final team ranking.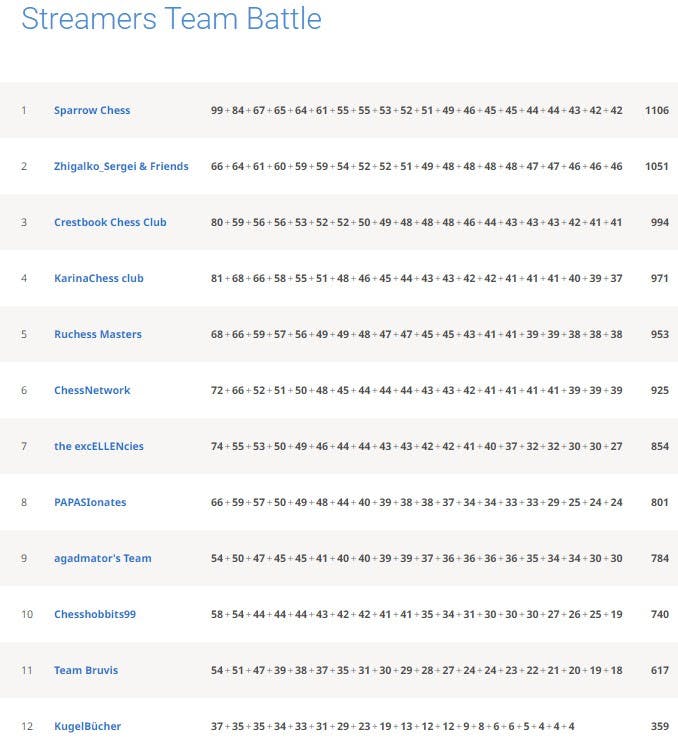 The final standings.
The winners team was led by the Spanish streamer FM Omar García Blanco. Omar streamed the whole battle in Spanish, you can watch the VoD. He also personally gave a strong performance of 2616 while streaming, kudos!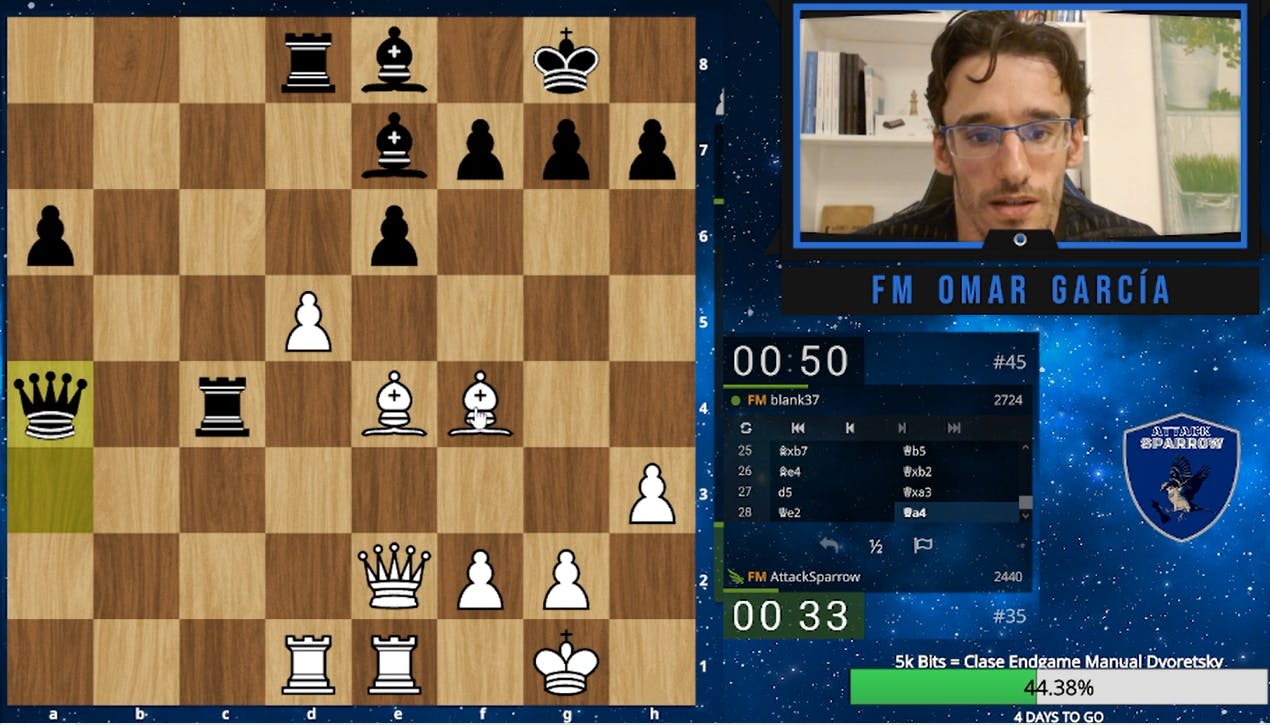 A close battle for the tournament victory had Zhigalko_Sergei & friends, the team around Belarusian GM and European Blitz Champion 2017, GM Sergei Zhigalko alias https://lichess.org/@/Zhigalko_Sergei. His team is the third biggest of all teams on Lichess and therefore showed up with the most team power and an incredible number of 884 players! In the end, only 54 team points were missing (1051 to 1106) to catch Sparrow Chess. His stream's recording can be watched in Russian
The bronze medal went to the Crestbook Chess Club with 189 players by famous Russian streamer and chess commentator GM Sergei Shipov, who together scored 994 team points.
Close behind Crestbook Chess Club, the KarinaChess club team with 79 players of WGM/IM Karina Ambartsumova almost caught the bronze medal winners with 971 team points.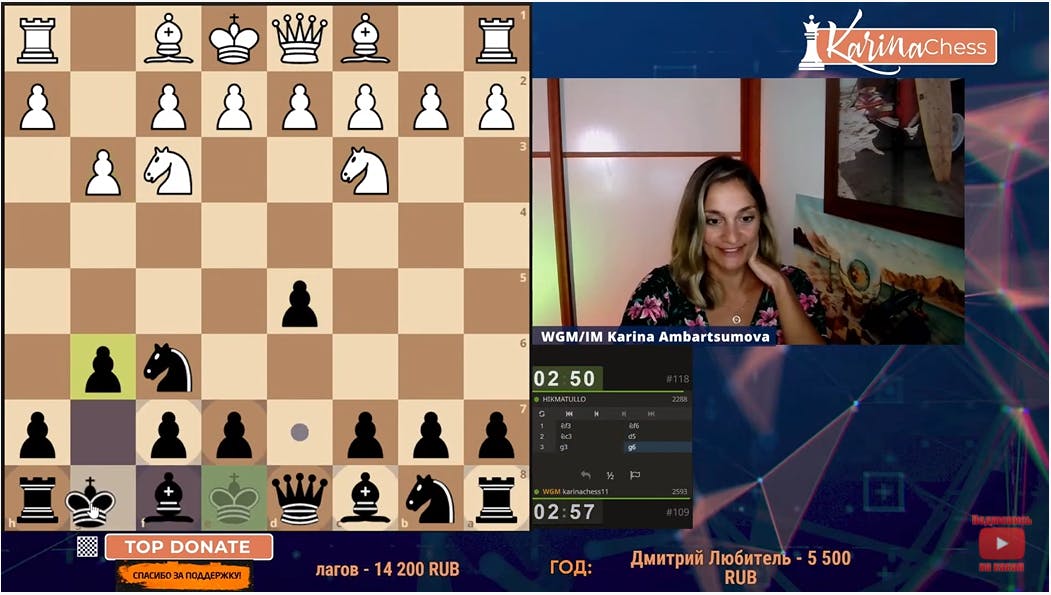 Recording of WGM Karina Ambartsumova's stream.
Just another 18 team points behind KarinaChess Club, the 270 players of Ruchess Masters secured the fifth place. Professional chess player WIM Rucha Pujari from India also often plays viewers of Lichess in Lichess plays streams on the Twitch & YouTube account of Lichess. Her stream can be rewatched here.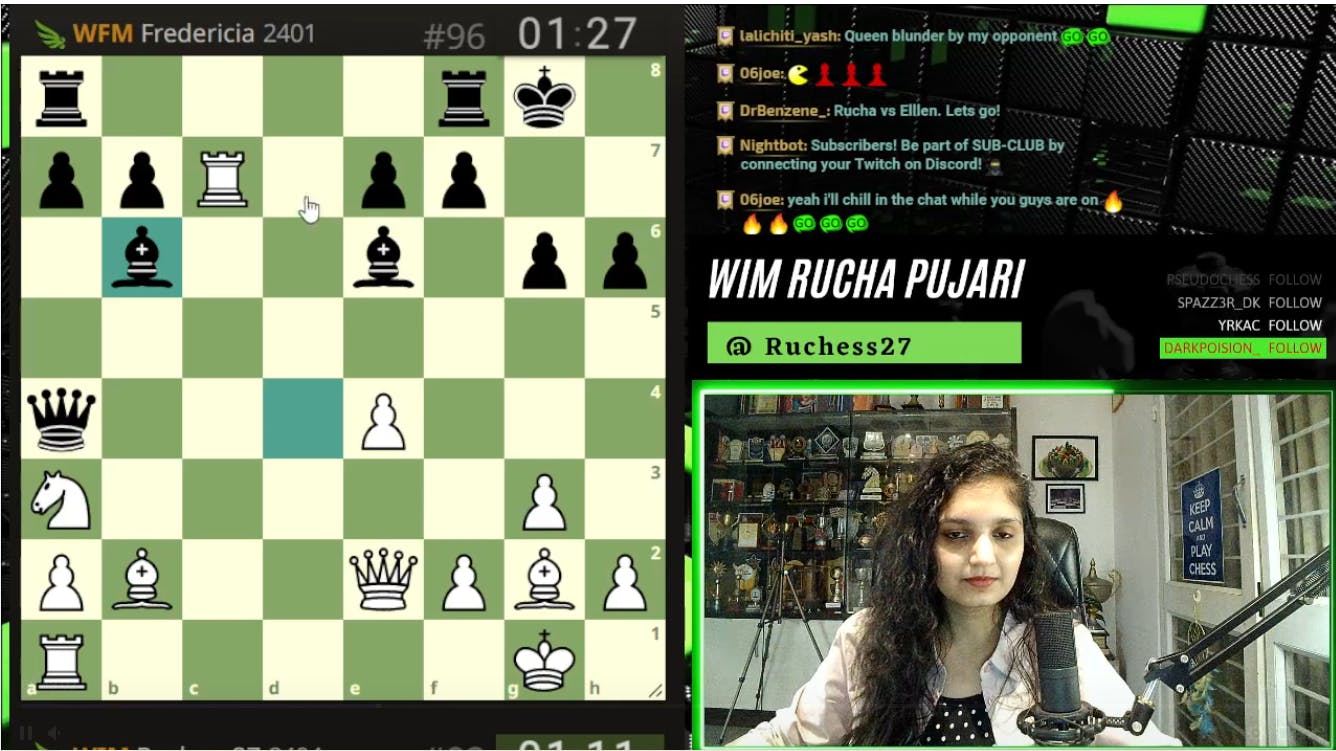 WIM Rucha Pujari in her game with WFM Ellen Fredericia Nilssen, who was streaming at the same time!
Still in the first half of all teams, the team ChessNetwork by NM Jerry with his 465k subscribers on YouTube scored a reasonable 925 team points, sending 362 players into the battle.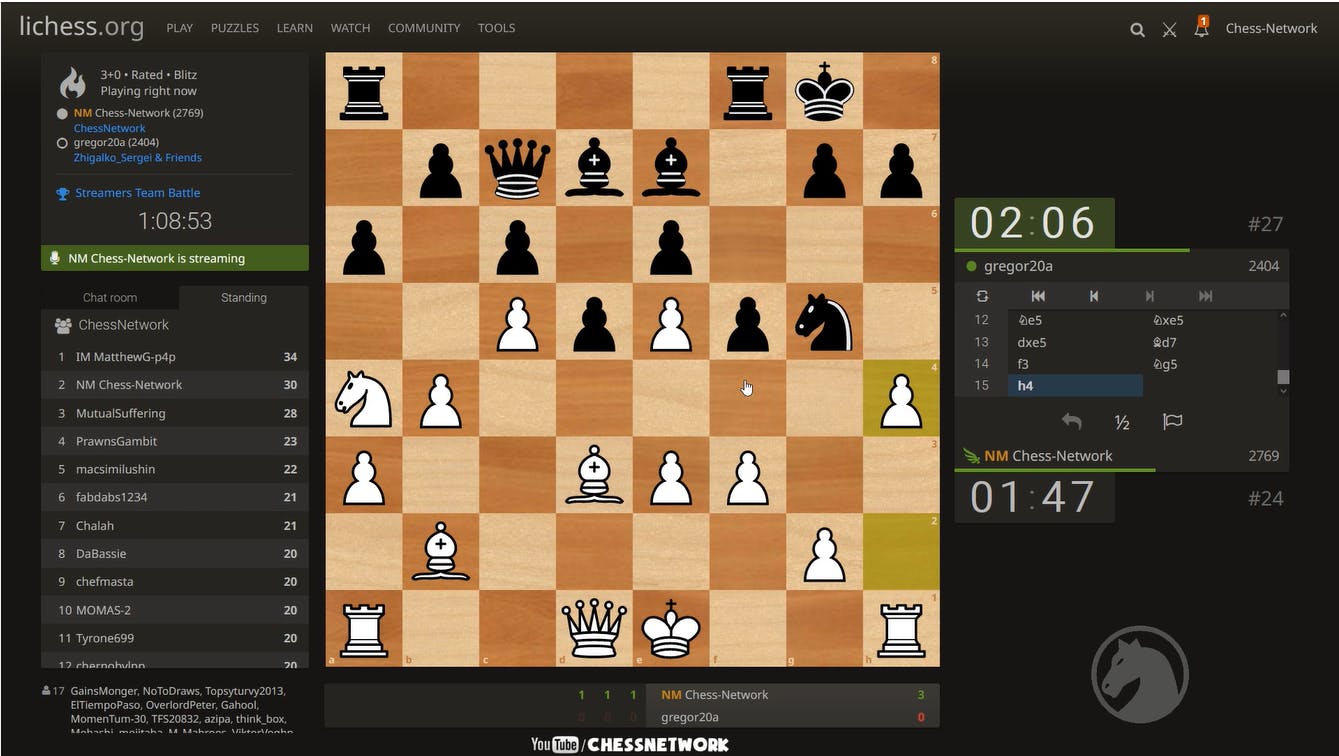 NM ChessNetwork's Twitch stream of the Streamers Battle can be found here.
Lichess streamer WFM Ellen Fredericia Nilssen and her team, the excELLENcies, had a bunch of strong players among their total 56 participants, which helped them secure the 7th place. Her Twitch stream of the event.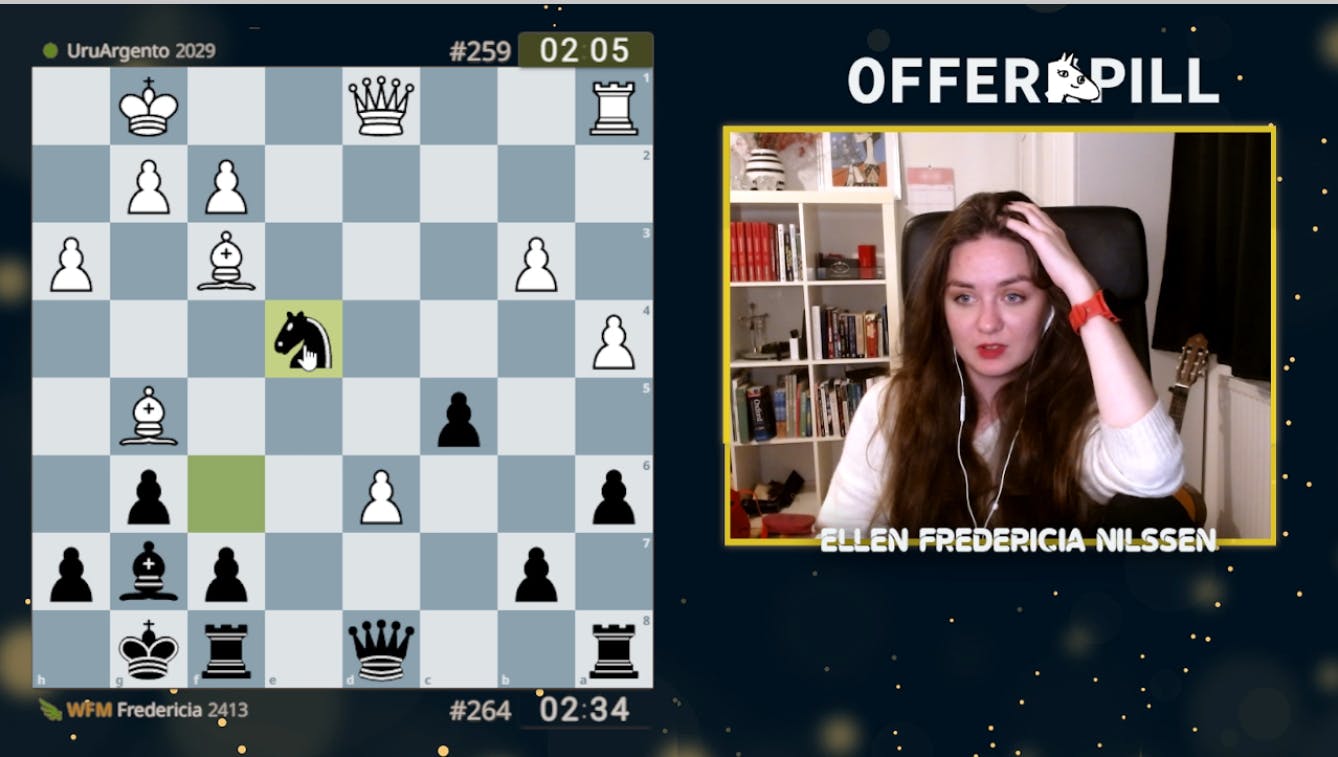 One of the highest Lichess rated Greek Blitz players who started with a Blitz rating 2700+, CM Alexandros Papasimakopoulos, sent 49 players of his team PAPASIonates into the streamers battle and scored 801 team points. (Stream recording) In an OTB Rapid event, he even beat GM Vladislav Artemiev once, so always a candidate to knock out the best players on Lichess.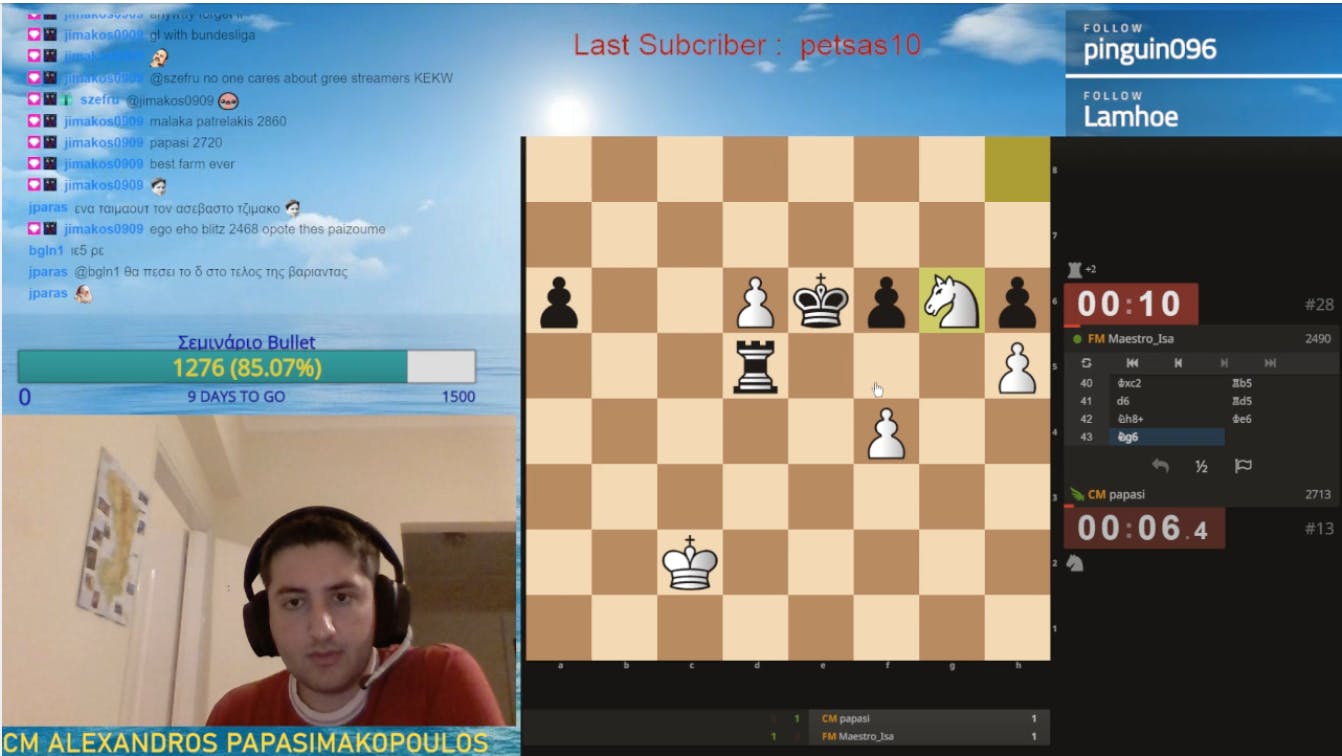 CM Alexandros Papasimakopoulos
The agadmator's Team of the famous Chess YouTuber agadmator with 1+ million subscribers also has a big team on Lichess with more than 21.000 members. A total of 330 players supported his team and generated 784 team points in the end.
The German streamer duo IM Adrian Gschnitzer & FM Marco Riehle are well known to German speaking viewers as the ChessHobbits. This time, FM Marco Riehle was playing the event and streaming for their Lichess team ChessHobbits99 and secured the last spot in the top 10 rankings with 740 team points. Recording of FM Marco Riehle's stream in German.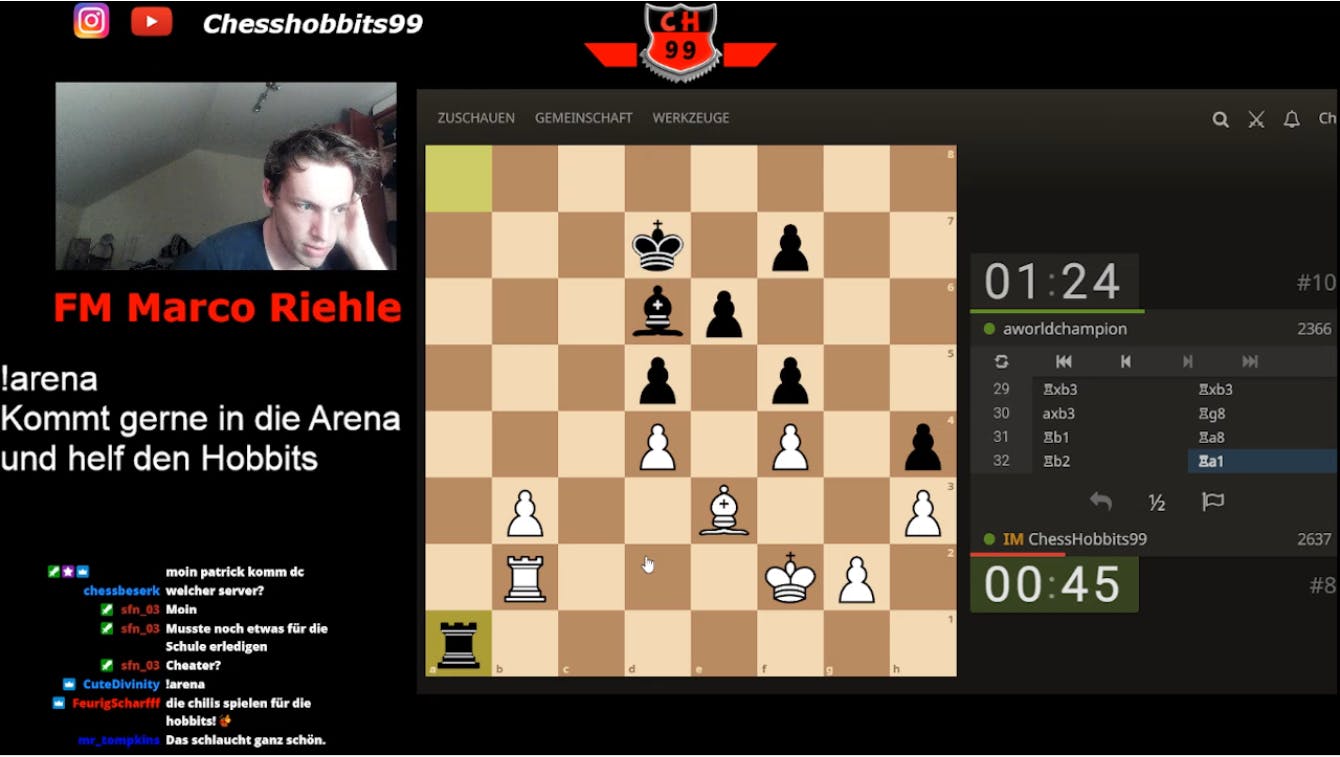 FM Marco Riehle streaming.
Coming back from her first OTB tournament ever at Norway Chess 2021 and getting her first official rating, Norwegian streamer Cathrine Bruvold from Offerspill Sjakklubb still had enough power for streaming and had her first appearance with Team Bruvis and 74 "Brulievers" in the Streamers Battle as well. Joining the battle just a day before the start, 617 team points seems to be a decent result. Recording of her Twitch stream.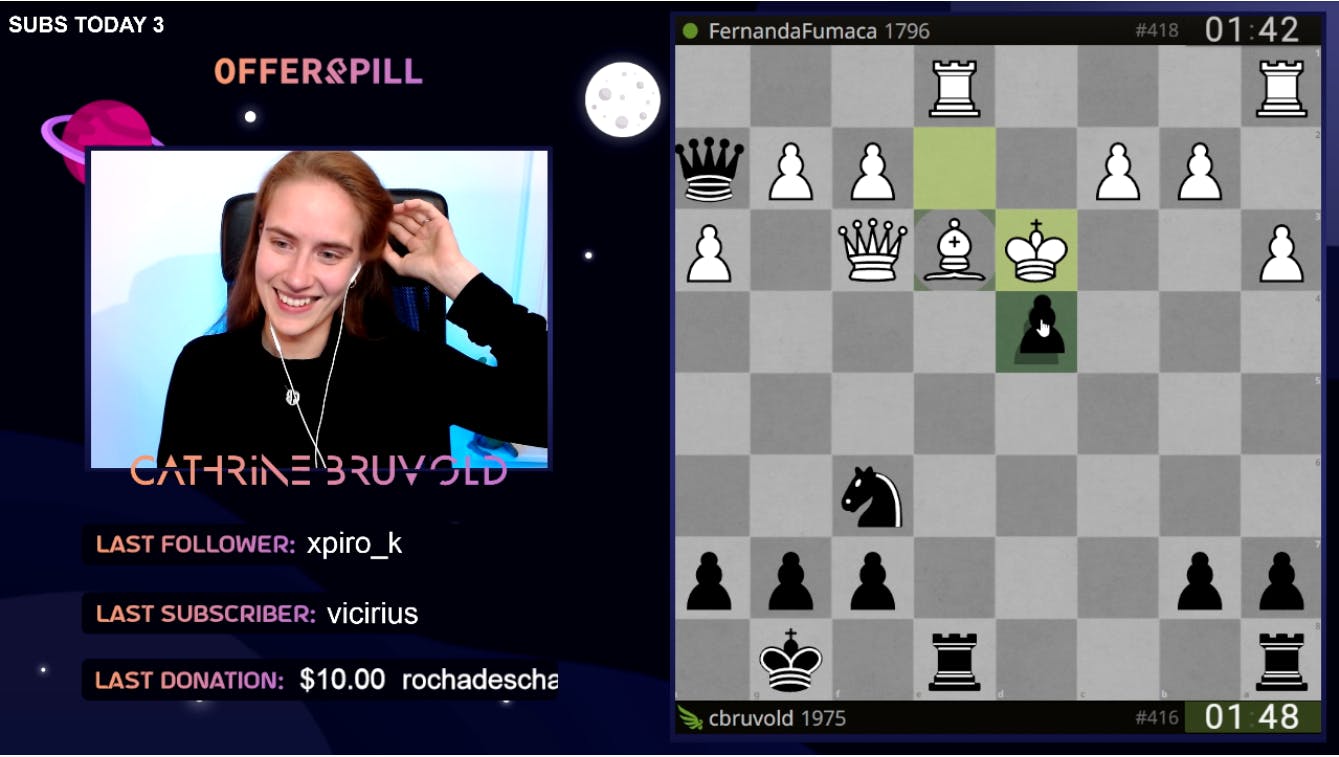 Over the last few months, German chess streamer KugelBuch built a massive Twitch followers audience with almost 15k followers. His team KugelBücher late-joined the event as well and scored 359 team points with 43 players.
Thanks to everyone who participated and streamed in the event, the next Streamers Team Battle is still to be announced. Before you leave! Give this Streamers Battle puzzle pack a try: