Norway Chess Kicks Off Despite Nepomniachtchi Niggle
The 9th edition of Norway Chess kicks off - despite Nepomniachtchi missing his flight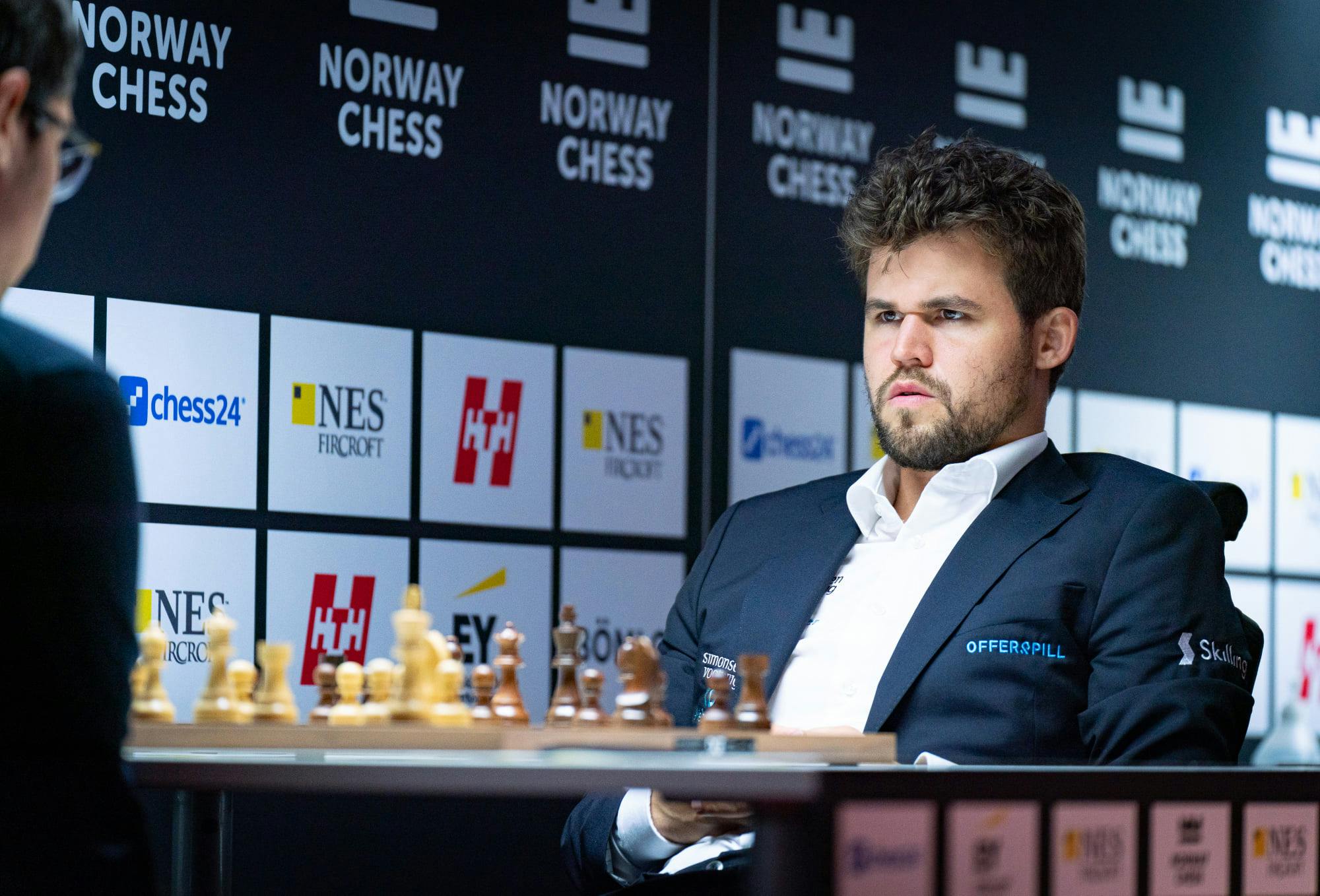 Norway Chess, the closed invitational which takes place in Norway's third largest city - Stavanger - started at 17:00 local time today. The tournament has been played annually since 2013, and has quickly developed a reputation for being one of the strongest tournaments on the elite circuit. In 2019, Norway Chess hosted seven of the world's top 10 players - giving an average tournament rating of 2784, a record it still holds.
Follow the games live, daily from 1500 UTC on the Lichess broadcast page - (Title image credit: Lennart Ootes / Norway Chess)
This year hasn't proven to be quite as strong as the 2019 edition, and given the global situation, has six players this year rather than the usual ten. Nevertheless, Norway Chess provides quality over quantity, with GMs Magnus Carlsen, Ian Nepomniachtchi, Richard Rapport, Sergey Karjakin, Alireza Firouzja, and Aryan Tari set to play a double round-robin from the 7th - 17th September.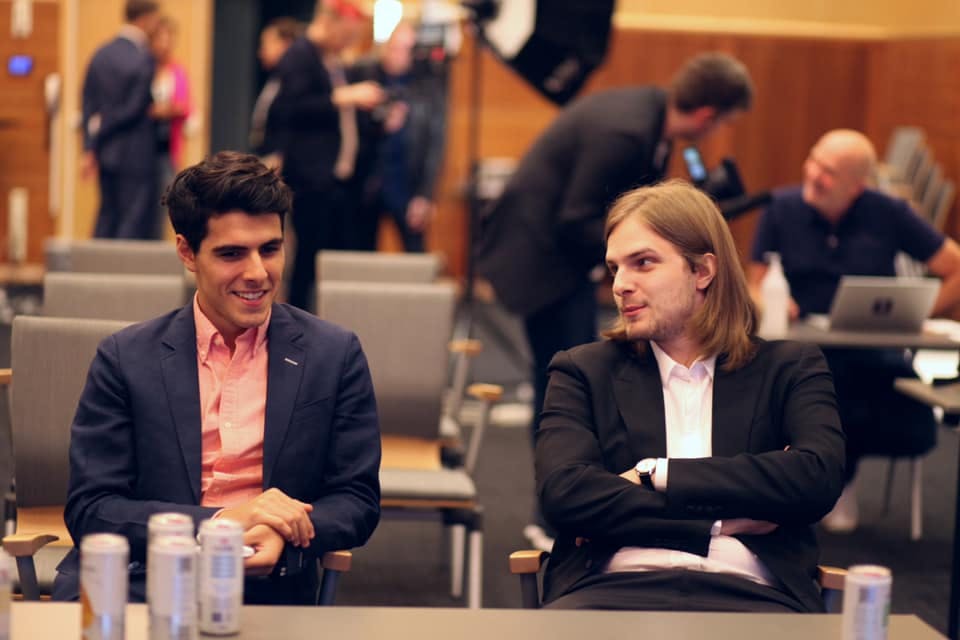 (image credit: GM Aryan Tari with GM Richard Rapport - Lennart Ootes / Norway Chess)
Chess enthusiasts will be particularly interested to see the matches between World Champion GM Magnus Carlsen and the Challenger for the World Champion title, GM Ian Nepomniachtchi. With the match for the World Champion title just around the corner in November 2021, Norway Chess is likely to be the last time they will play each-other before the World Championship. 
The games between them in particular are possibly going to provide additional excitement and fireworks as they try to battle for a psychological advantage ahead of their World Champion match - or could be quick draws with both players choosing to keep as much of their preparation hidden as possible. 
Across the lifetime of both players, Nepomniachtchi is one of the few players to have a positive record against Carlsen in classical time controls, with four wins, six draws and one loss (+4 =6 -1). Many of these classical encounters were from under-12 and under-14 world events nearly 20 years ago - so this year's edition of Norway Chess will provide additional interest to see if Carlsen will be able to close the distance in Nepomniachtchi's positive record.

Carlsen v Nepomniachtchi will first meet in round 4, with the match starting at 15:00 UTC on Friday, 10th September. The replay, with colours reversed will be round 10 - the final round, starting at 15:00 UTC on Friday 17th September. The full pairings for all rounds can be found on the organiser's official website.

The match up almost didn't happen with the organiser revealing last night that Nepomniachtchi had faced unspecified visa issues and was unable to board his original flight. Consequently, Nepomniachtchi will be missing round 1 - with the match he was due to play against GM Sergey Karjakin being moved to the rest day on Saturday, 11th September.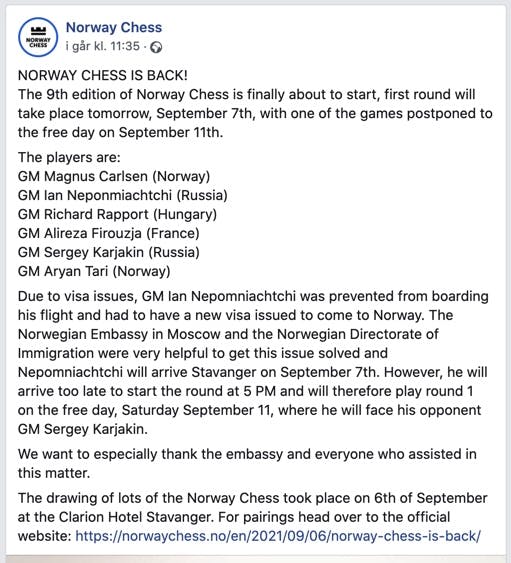 The statement released by Norway Chess on their official Facebook page
Like previous years, the format has largely remained unchanged - the players will meet in a double round-robin, meaning each player will play every other player twice - once with the white pieces, and once with the black pieces. Both players will start with 120 minutes on the clock, with a 10 second increment after each player makes their move, starting from move 40. 
If the players are drawn after their classical encounter, they will play an Armageddon game as a tiebreak. Players will keep the colours they played the classical length game with. White will have 10 minutes, black will have 7 minutes with an increment of 1 second starting from move 41. As usual with the Armageddon tiebreak, white exchanges draw odds for time odds, meaning white receives additional time, but a draw counts as a victory for black.
Points are a bit complex - a victory in the classical game is 3 points, a draw in the classical game and a win in Armageddon gives 1.5 points, and a draw in the classical game and a loss in Armageddon gives 1 point. A loss gives 0 points. 
All games can be followed on Lichess, from the broadcast page.