Anonymous GM wins Titled Arena, again. (...and Shakhriyar Mamedyarov!)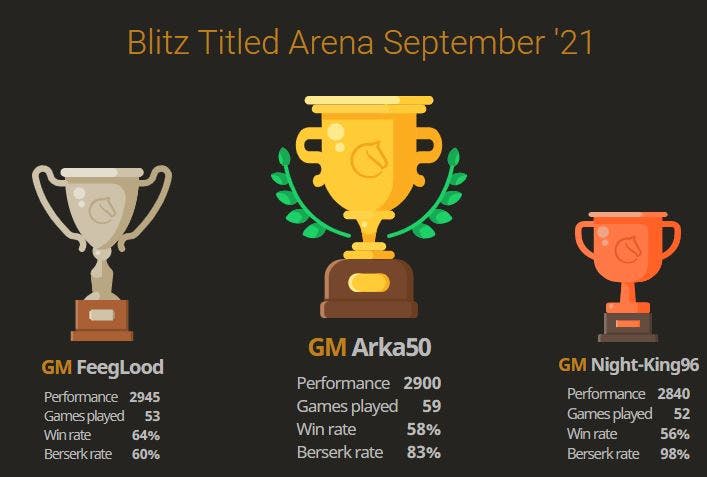 The anonymous GM Arka50 won the September Lichess Blitz Titled Arena on Saturday by a comfortable 9 point margin. Another anonymous GM, Feeglood finished in 2nd. Arka50 took the leader's position 30 minutes into the three hour event, and with an hour left their lead had grown to 20 points. They faltered slightly in the last hour, but not enough to ruin anything. Notably the #1 and #2 players in this event are avid chess variants players, with thousands of games played in all the variants available on Lichess. Arka50 was the Atomic Chess World Champion in 2017, 2018, and 2020.
As has become standard, there was massive berserking in the event. "Berserking" is the Lichess-exclusive button you can press during arena events that takes away half of the time on your clock, but gives you an extra point for games that are won or drawn. For the top players in this event, it wasn't a question of whether to berserk, but how much. In the top 10, the answer to that question was somewhere between "most of the time" and "always."
Our winner Arka50 berserked 83% of the time. In 2nd, Feeglood might now regret not berserking more. They finished with a higher performance rating than Arka50 but those extra points (and extra games as a result of finishing more quickly) more than made up the difference.
Thibault told me that berserking was a bit of a joke when it was implemented and he never thought anybody would really use it much, but it seems that the joke was funnier than he realized. In this event, you would have to go all the way down to spot #26 to find a player that totally abstained from berserking, IM Yuri Hambardzumian. 
The next Titled Arena will be on September 18th.
In other news! Lichess will have a special guest today at 19:00 UTC; Super GM Shakhriyar Mamedyarov. He will be playing against any Lichess user who would be interested in playing him. No preference will be given to Lichess patrons or Twitch subscribers. You simply send the challenge and wait to see if you are chosen. The players will be picked at random from the pool of challengers. While waiting, you can pass the time watching Shahkryar commentate his games on our Twitch or YouTube channels. 
Check out our Titled Arena puzzle pack here: