FIDE World Cup - Karjakin Circumvents Shankland; Vidit Vexed by Duda
Semifinalists and finalists known as tournament approaches end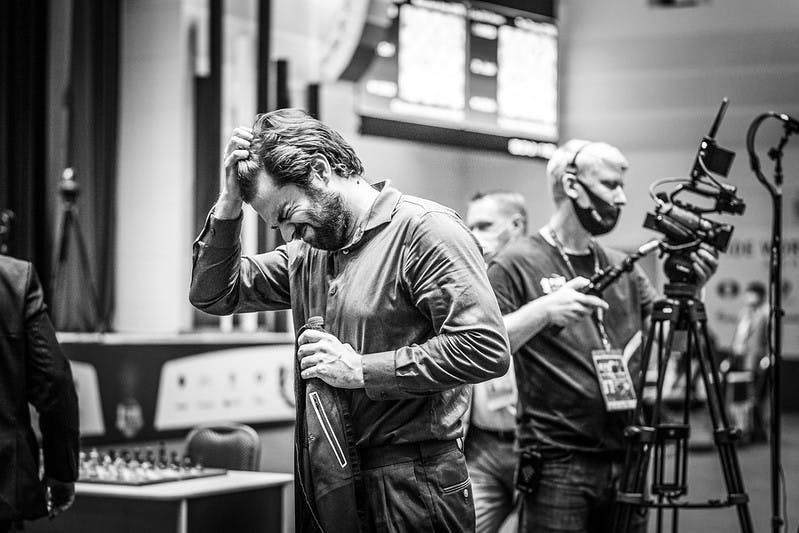 With another three days of games and tiebreaks played in the Open World Cup and Women's World Cup, the number of players has once again been whittled down. 
[Title image credit - Eric Rosen / FIDE]
For some players, the road to the semifinals (for the World Cup) and the finals (for the Women's World Cup) was easier than others. GM Sergey Karjakin, in particular, went to tiebreaks against GM Sam Shankland - looking more vulnerable than he has in his past games. 
However, Karjakin is the only player to have won against three 2700+ players (and gone on to tiebreaks against all three) so far and may be understandably fatigued.

The pairings are now known after players from the previous round were eliminated:

Semifinalists (Open World Cup):
Magnus Carlsen v. Jan-Krzysztof Duda
Sergey Karjakin v. Vladimir Fedoseev
Finalists (Women's World Cup):
Aleksandra Goryachkina v. Alexandra Kosteniuk 
The games are broadcast on Lichess, with the Open World Cup here, and the Women's World Cup here.
Quarterfinals, Game 1 - World Cup

Two games were decisive, as two went to draws. 
Much of the early game between American GM Sam Shankland against the Russian "Minister of Defence" GM Sergey Karjakin seemed to be heading to a draw. A draw would have been a good result for Karjakin with the black pieces, but a mistake just before move 40 when additional time is added, allowed Shankland to find some stable footing. Capitalising on his advantage, Shankland was able to squeeze a win, forcing Karjakin into a must-win situation.
https://lichess.org/study/embed/Io4Ww6zc/2tBZyhUu
French GM Étienne Bacrot meanwhile clashed with World Champion GM Magnus Carlsen. Bacrot has faced Carlsen multiple times in the past, but has not previously won against Carlsen in the classical time control (he has in faster time controls). Unfortunately for Bacrot, he was unable to take a point from the World Champion in this encounter. Carlsen sacrificed his queen for a rook and a bishop, which in combination with some unstoppable passed pawns secured him the win.
https://lichess.org/study/embed/Io4Ww6zc/Hke62s8W
Meanwhile, GM Vladimir Fedoseev was content with a draw with the black pieces against Iranian GM Amin Tabatabaei. Likewise, GM Santosh Gujrathi Vidit went for a Catalan against GM Jan-Krzysztof Duda, which ended with a solid draw on move 28. 
Semifinals, Game 1 - Women's World Cup

As the Women's World Cup began with fewer players than the Open World Cup, they essentially had moved a round ahead of the men.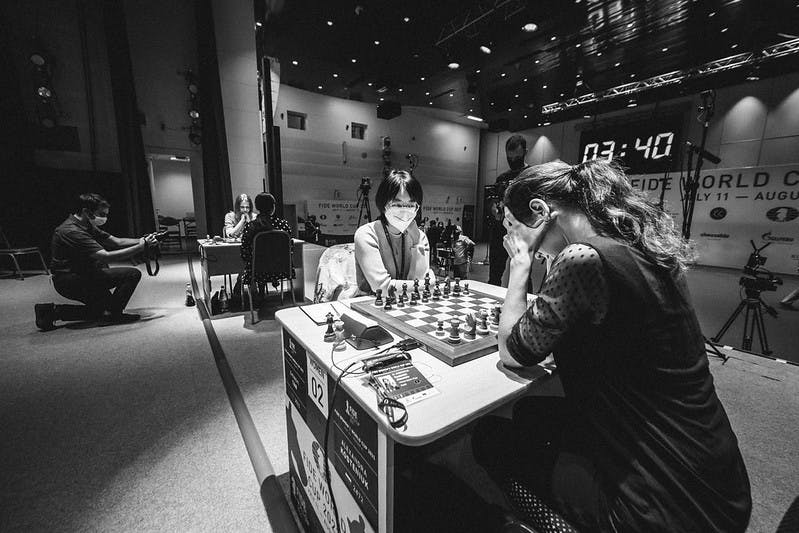 Image credit: Anastasiia Korolkova / FIDE
With stakes so high, and tensions similarly high too, all players at this stage of the tournament naturally want to make it to the final. Despite both games ending in a draw, GM Aleksandra Goryachkina attempted a sideline in the Ruy Lopez, one of the oldest known openings with centuries of opening theory behind it. Goryachkina seemed to misplay or make a mistake in the sideline she chose, giving her opponent, GM Anna Muzychuk, a small advantage. However, Goryachkina defended tenaciously and similarly took advantage of the inaccuracies in Muzychuk's play - and was able to equalise and then maintain the game to a draw.
https://lichess.org/study/embed/p1vAZysP/mLbhPQvb
Meanwhile, where Muzychuk had opened with 1. e4, GM Zhongyi Tan played 1. d4 against GM Alexandra Kosteniuk. Kosteniuk defended without much problem - and after an early exchange of queens and a solid pawn structure for both players, neither could make much progress and a draw was agreed on move 31. 

Quarterfinals, Game 2 - World Cup 

With colours reversed, every single game was decisive.
Perhaps the most exciting game to spectate was the one played between GM Jan-Krzsysztof Duda and GM Santosh Gujrathi Vidit. Following a game played by Vidit's compatriot, GM Baskaran Adhiban, for the first 18 moves, the game was a constant battle of threat and counter-threat, sacrifices and counter-sacrifices. Despite nearly every piece coming off the board by move 30, Vidit made a single hard to see endgame blunder, which unfortunately cost him the game.
https://lichess.org/study/embed/7kW4AvuC/Z5H94V2w
Equally, GM Amin Tabatabaei - who had consistently taken advantage of his opponents' endgame blunders - found himself being the victim. For more than 70 moves, Tabatabaei defended tenaciously against GM Vladimir Fedoseev, and it looked as if they were heading to tiebreak until an unfortunate blunder secured the win for Fedoseev.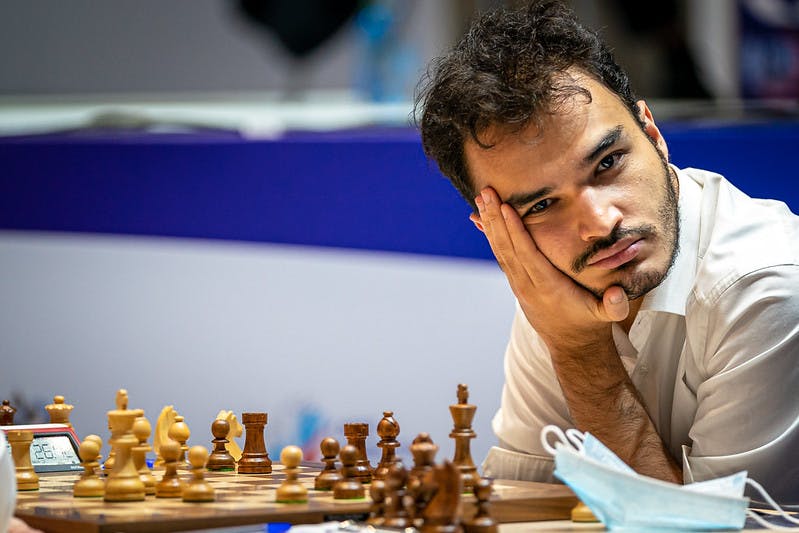 Image credit - Eric Rosen / FIDE
Meanwhile, GM Sergey Karjakin was able to pull a win on demand against GM Sam Shankland, securing his place in the tiebreaks, whereas GM Étienne Bacrot was not so fortunate against GM Magnus Carlsen, being eliminated from the tournament. 
Semifinals, Game 2 - Women's World Cup

Similarly, both games were decisive today - meaning no games went to tiebreaks in the Women's World Cup, giving both finalists a rest day ahead of the final. 
GM Aleksandra Goryachkina opted for 1. d4, with GM Anna Muzychuk with black going into the Grünfeld defense. Both players spent a significant amount of their time thinking in the first 20 moves, with Muzychuk spending 40 minutes thinking whether to exchange queens. Going into a double-rook endgame, things still looked drawish albeit with a small advantage for white, but Goryachkina - as is typical for her - kept chipping away at Muzychuk, finding small footholds and handholds from which to develop a steady advantage, until she converted the full point.
https://lichess.org/study/embed/xUllZ8nM/aRoVxPu9
Meanwhile, GM Alexandra Kosteniuk played a typically aggressive game against GM Zhongyi Tan. Going into a Petrov defense sideline, Kosteniuk ended up with a strong bishop pair - which she used to great effect. And, as has become typical in this tournament, Kosteniuk sacrificed the exchange, giving up a rook for her opponent's bishop. Kosteniuk continued piling on the pressure with great piece coordination to convert the point and qualify for the final.
Tiebreaks - World Cup

Just a single match went to tiebreaks, between GM Sergey Karjakin and GM Sam Shankland. In the tiebreak format, there are two rapid games played at the 25+10 time control (25 minutes to start, with a 10 second increment added after each move). If those games are drawn, there are a further two games played at 10+10, followed by two games of 5+3, and finally an Armageddon decider.
The first rapid game was solid and seemed drawish until Karjakin blundered, giving Shankland a strong advantage which he was able to hold and convert the point. Despite the pressure Karjakin felt, being in a must-win situation to stay in the tournament, he was able to demolish Shankland's Sicilian in the second rapid game. Both with a point each, this forced the next round of tiebreaks, at the 10+10 time control.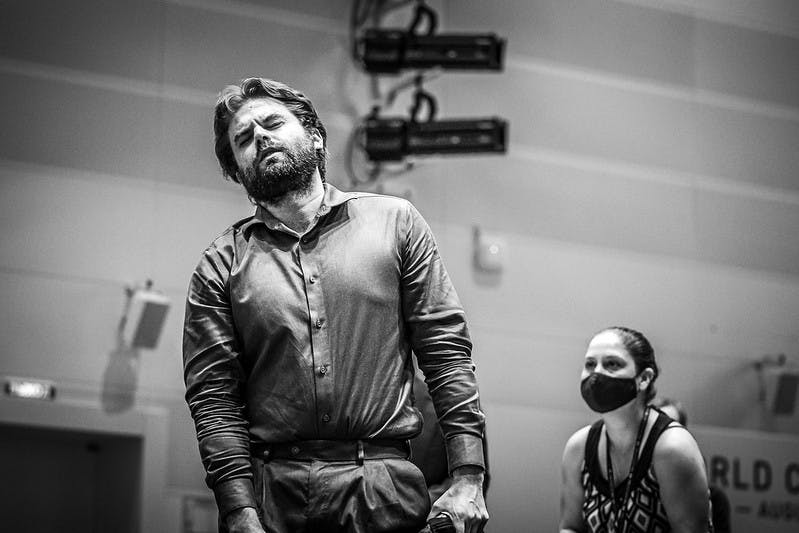 Image credit - Eric Rosen / FIDE
Allegedly, having quickly done some preparation between the 10+10 round started, Karjakin gained an advantage against Shankland, and was able to win the first of the two 10+10 tiebreaks. Shankland, needing to win to stay in the tournament, played aggressively out of necessity in the second of the 10+10 tiebreaks, but Karjakin, known as the "Minister of Defence" was able to parry the threats, and qualified for the semifinals.