World Cup Kicks Off in Sochi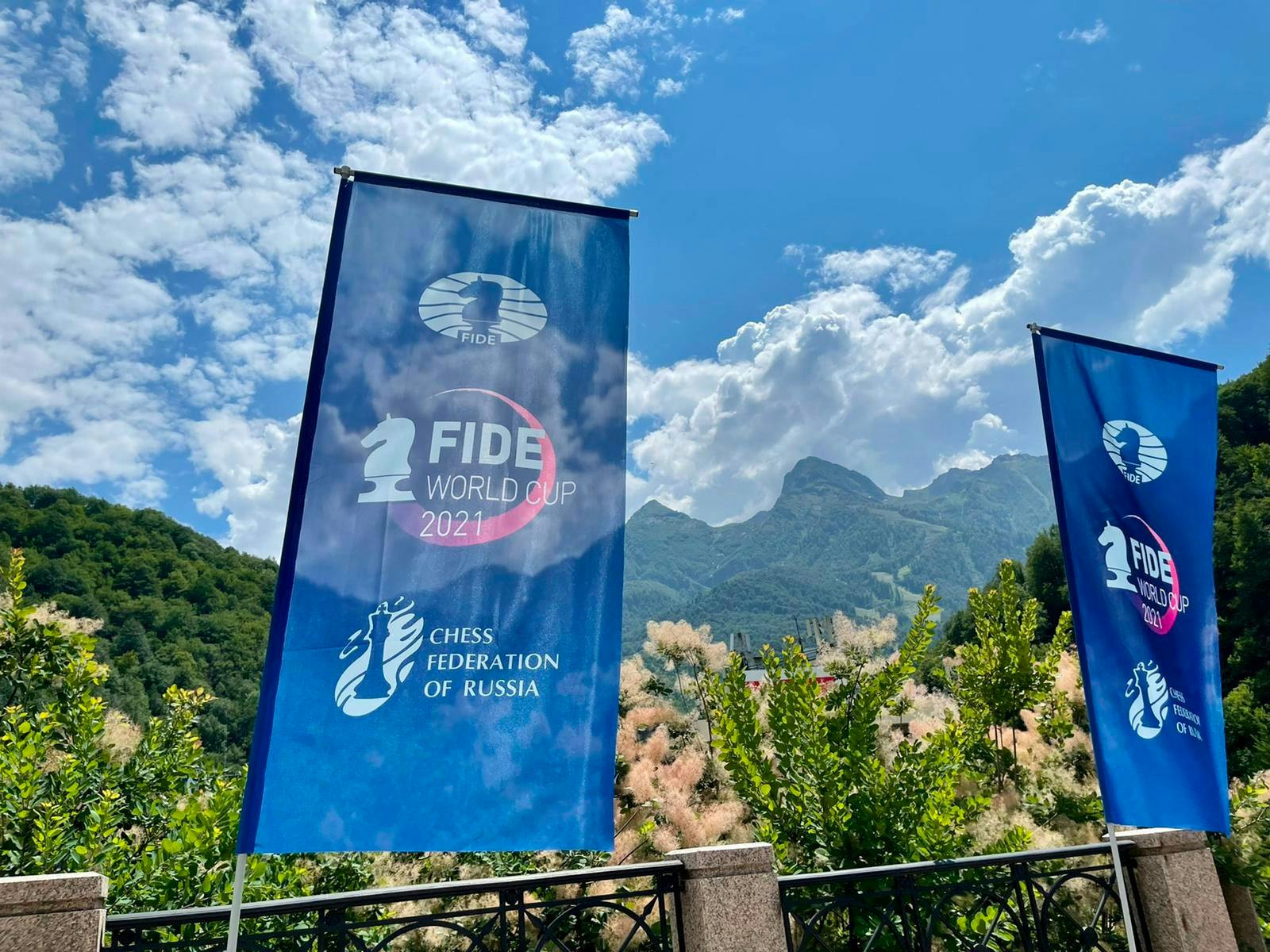 Round 1 of the Chess World Cup started just outside Sochi yesterday, in an exposition centre nestled in the scenic mountainous landscape of Krasnaya Polyana. 
Some players who had arrived early - or were seeded into a later bracket - spent some time tackling the local peaks before preparing to tackle their opponents.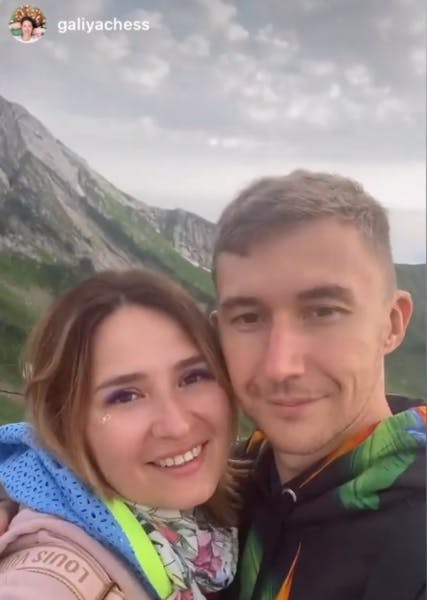 GM Sergey Karjakin and his wife, Galiya Karjakina catalogued their ascent
The World Cup is a unique tournament in the FIDE events calendar, with it being a knockout format. Players face their opponents in two classical length games - once with each colour. Tiebreaks are decided by rapid, then blitz, and then an armageddon game. 
Because of the format, the World Cup is said to be more entertaining for spectators than many other chess competitions - as upsets can be more dramatic, and the stakes higher for players than in Swiss events.
With players perhaps rusty from a lack of over the board play recently, Round 1 Game 1 already provided some surprises - as well as a game already being presented as a game of the year. 
Full pairings and results can be found on the official tournament website, or on the daily Lichess broadcast of the event.

Round 1 Game 1 - Open:

In a firecracker of a game already being widely touted as a potential game of the year, Chilean GM Pablo Salinas (2514) achieved a bombshell win over the Danish GM Mads Andersen (2579). The game should be checked out in full to see how Salinas achieved the position below, with a lovely mate played over the board:

Can you find the forced mate in 2? (black to play)
https://lichess.org/study/embed/hvkOd2Fp/bfMSS5uT#49

But the biggest surprise of the day in the Open section must surely have been the game with English IM Ravi Haria (2440) winning against the veteran Russian GM Vadim Zvjaginsev (2608). Haria - who came third in the British Championships in 2019 - gradually gained control of the game, before surgically winning a rook endgame.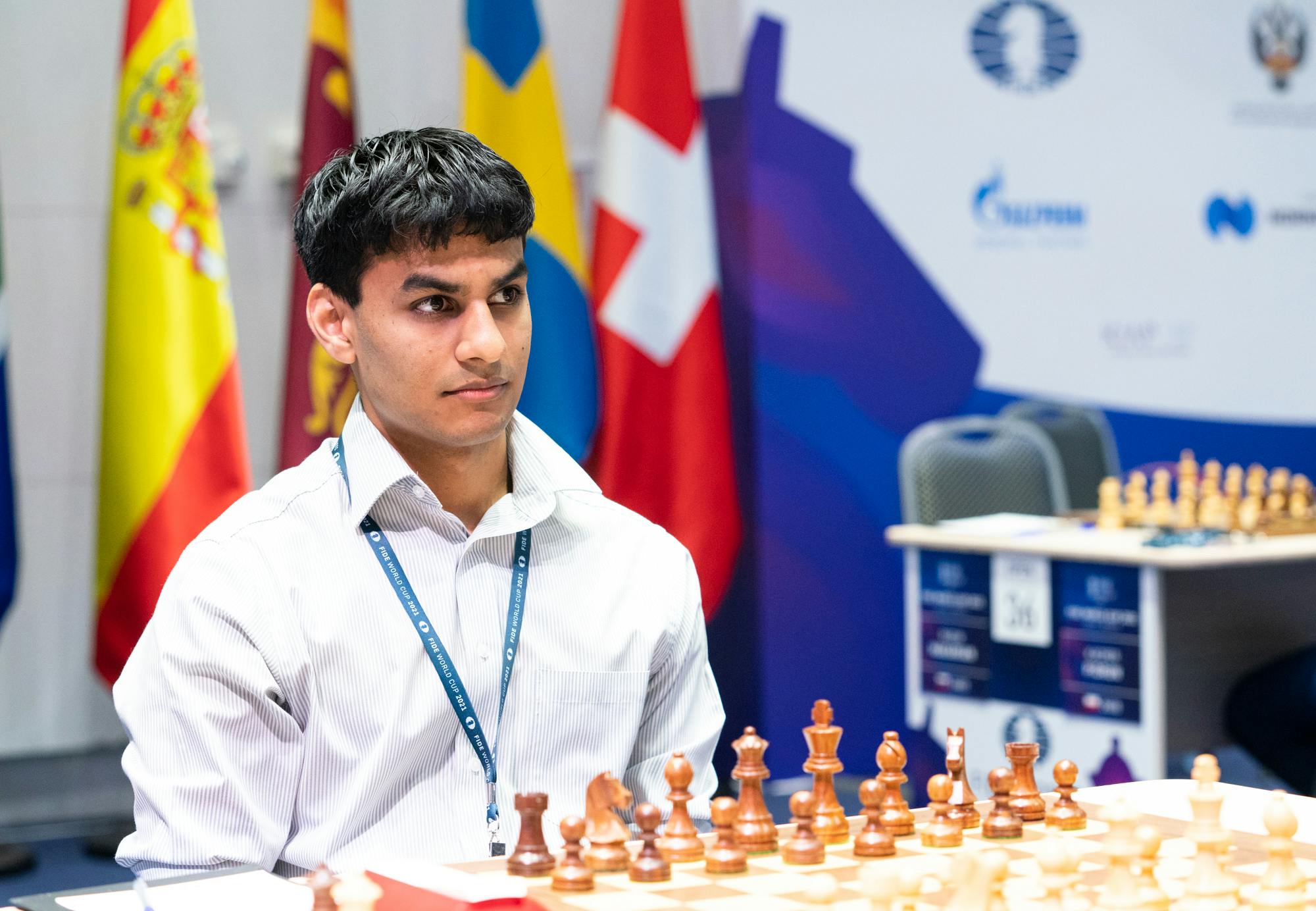 IM Ravi Haria

Much attention was also given to the world's youngest grandmaster, still 12 years old - GM Abhimanyu Mishra (2485) who after a long fight, eventually conceded to the charismatic Georgian GM Baadur Jobava (2603).

Round 1 Game 1 - Women:

In perhaps the biggest surprise of the tournament in this round, the 2012 World Champion GM Anna Ushenina (2416) lost to the Egyptian WIM Ayah Moaataz (2015). Despite Ushenina having a significant material advantage, she overlooked the threat of white's rook nestled on the backrank, which allowed Moaataz to take the point.

Can you find the winning sequence of moves? (Forced mate in 10, white to play)
https://lichess.org/study/embed/yQgyGDQm/c6TnGJv4#76

A comfortable win also came to the frequent Lichess streamer and part of the Checkitas trio, Slovenian IM Laura Unuk (2407). Unuk won against the three times Women's African Chess Champion, WGM Shrook Wafa (2182) with complete control of the position straight out of the opening.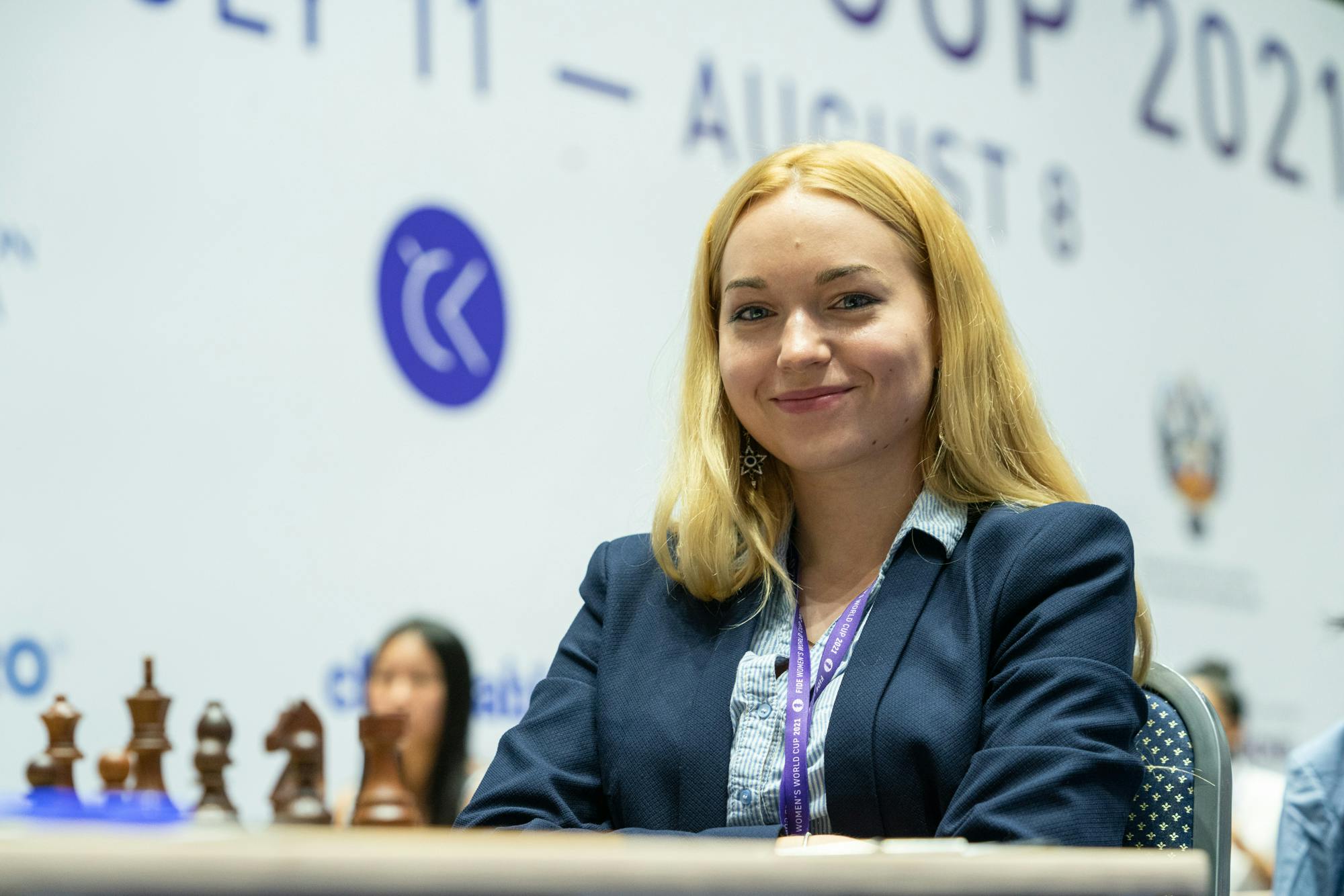 IM Laura Unuk (@checkitas)

Round 1 Game 2 - Open:

The biggest surprise of game 2 was the late victory of Zambian IM Chitumbo Mwali (2281) who in a complicated position won an entire piece against the Armenian GM Haik Martirosyan (2632). Both players will tomorrow be playing tiebreak games, initially in the rapid time control, to determine who makes it through to the next round.
https://lichess.org/study/embed/4f9btUWo/vvm1bfeb
Joining Mwali and Martirosyan in the tiebreaks will be the English IM Ravi Haria, whose opponent, GM Vadim Zvjaginsev, pulled a must-win game out of the hat with black.

But in a major disappointment to penguingm1 fans everywhere, speed-demon and bullet player extraordinaire GM Andrew Tang (2525) unfortunately lost in a tough battle against GM Sindarov Javokhir (2558).

To see the full list of who made it through to round 2 - and the 50 players who will be seeded directly into round 2 by rating, as well as who was eliminated, the organisers have made a useful tree to view.
Round 1 Game 2 - Women:

Players from the African continent provided another upset at the top boards, as the current Women African Chess Champion, WIM Jesse February (1863) secured a solid draw against GM Valentina Gunina (2437). Gunina appeared to misplay in a Caro-Kann early on, sacrificing her castling rights and exposing her king early in the opening.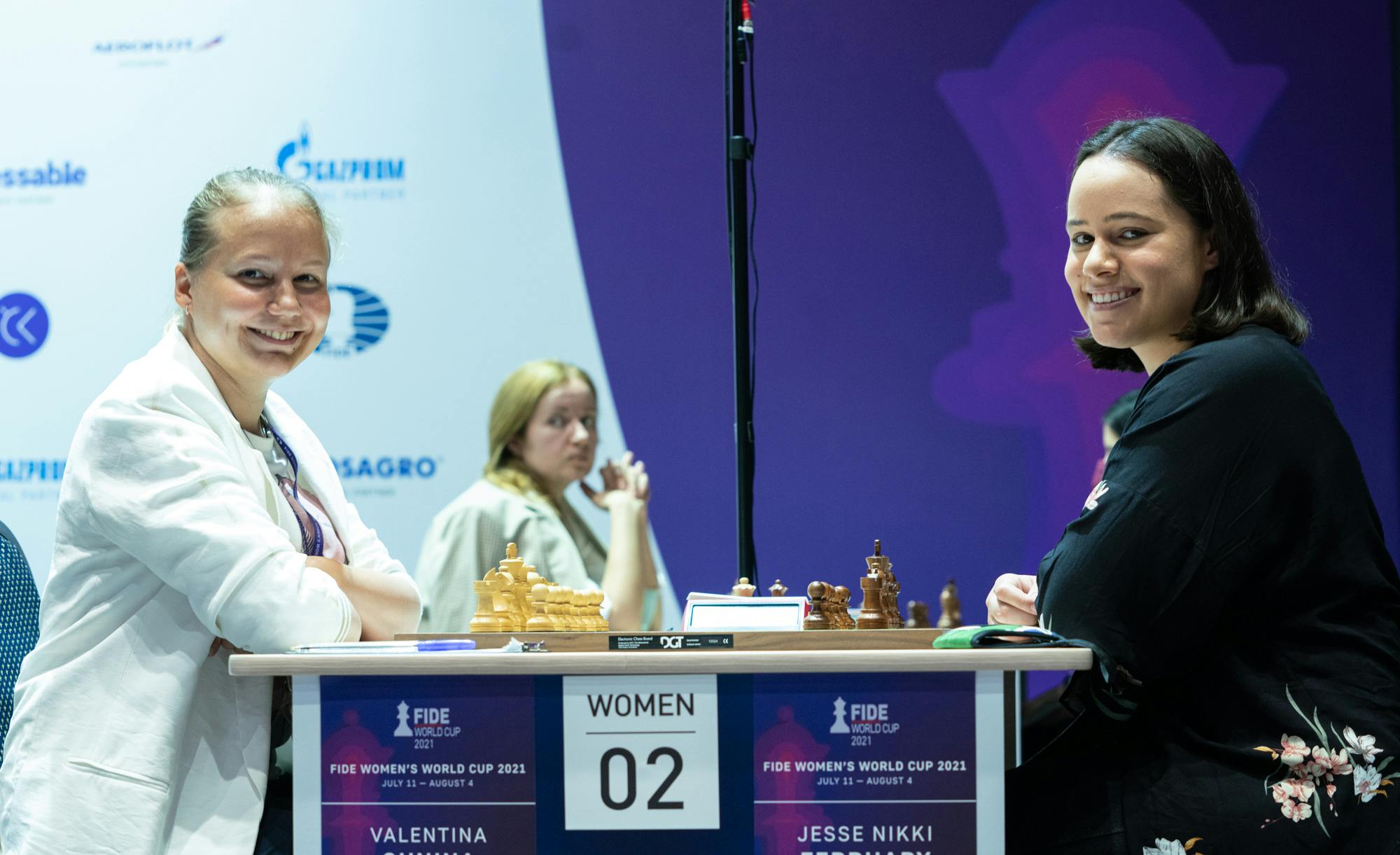 (L - R, GM Valentina Gunina; WIM Jesse February)
February under time pressure was unable to convert the win, but offered a repetition which was accepted. Although Gunina will advance to the next round, such a result shows just why the World Cup is such a popular format.

https://lichess.org/study/embed/xNCDe8WX/6DII626V

Likewise, the Algerian WIM Sabrina Latreche (2076) continued the excellent play of African chess by winning in a must-win game against WGM Nataliya Buksa (2413) - forcing tiebreak games tomorrow to decide who will advance. Joining in the tiebreaks will be GM Anna Ushenina, who despite an upset yesterday bounced back today.

Fans of Checkitas' IM Laura Unuk will be breathing a sigh of relief in a day many other notable streamers were eliminated from the tournament, as she cruised to a second straight victory against WGM Shrook Wafa. Unuk will be facing IM Gunay Mammadzada (2460) on Thursday, in their first over the board encounter.

Fans of the notable streamers WGM Qiyu Zhou (akaNemsko) and WGM Dina Belenkaya meanwhile will be disappointed that their favoured streamers were unable to make further progress in the tournament.

To see the full list of who made it through to round 2 - and the 25 players who will be seeded directly into round 2 by rating, as well as who was eliminated, the organisers have made a useful tree to view.

Challenges

Because of the ongoing global pandemic, the tournament is operating with multiple conditions in place. Several players faced difficulties in making it to the tournament, and some countries' restrictions prevented their players from attending at all. 
Testing of all players, coaches, supporting persons and journalists or crew working the event must be regularly carried out. Zones where spectators or press can access is restricted - with it being challenging in particular for press to secure interviews with the players. 
Despite this, Lichess will be broadcasting the games daily, plus providing updates on our usual channels.